By Abdoulie Fatty
Muslim Hands The Gambia, on Sunday May 10th 2020, supported the community of Giboro with various food items, as part of their response to the fight against COVID-19. The group which has dug several wells for people to have access to portable water has also built mosques in some communities of the Gambia.
The Alkalo of Giboro village Sheriffo Jatta, commended the group for their support saying this was not the first time they provided such support to his community. Alkalo Jatta said the support will go a long way in assisting families with some of the basic food needs.
The Chief Executive Officer of Muslims Hands Gambia noted that the support to Giboro Kuta is geared towards supporting the needy communities in the country.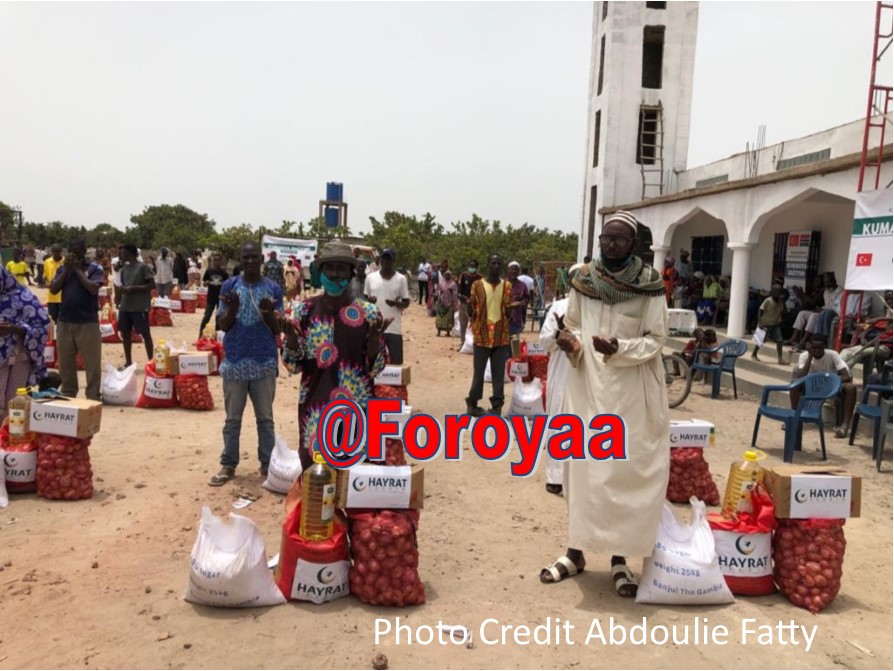 He said Muslim Hands supports the community of Giboro with food packages for people. He urged the community to follow the Ministry of Health advice and the WHO guidelines on COVID -19 in order to protect themselves and their families from the virus. Hydara urged the communities to maintain social distancing and wash their hands with soap and water.
He thanked their partners for the support they rendered to the Gambian communities at all times. Lamin Sanneh, Governor of West Coast Region in his remarks,thanked Muslim Hands for the support rendered to Giboro over the years and the Gambian community at large; that since 1993, Muslim Hands Gambia has supported the needy by building Mosques and supporting communities during Muslim festivities; that the organization has been complimented the efforts of Government in the fight against COVID-19 and thanked the partners of Muslim Hands for their support towards the Gambian people.
Chief Bakary Sanyang of Kombo East also commended Muslim Hands and their partners for the intervention.
A beneficiary in the person of Massey Jarjue, thanked Muslim Hands for their support and said the food items will go a long way to keep her and her family safe especially during the month of Ramadan. Edirrisa Darbo also a resident of Giboro thanked the donors for the gesture. Modou M. Jatta of Giboro, said the donation of the food package and sanitary items was timely. Oumie Jallow and Isatou Ceesay all expressed similar remarks.