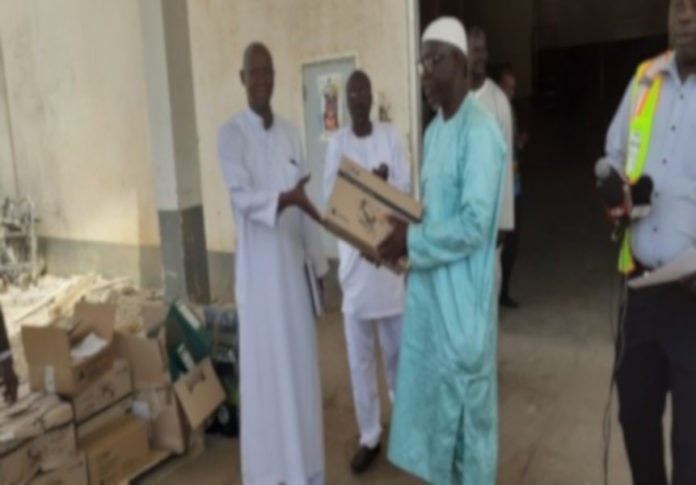 By Momodou Jarju
The 'Farato International Peace Festival' in collaboration with 'Helping Hand' Organisation from Germany, donated infusion sets worth 32, 000 Euros to the Health Ministry to strengthen the health sector's fight against the global Covid-19 pandemic.
Speaking on behalf of the Alkalo and the community of Farato during the handing over ceremony of the items, the president of 'Farato International Peace Festival' Saikou B.M. Njie said the organisation was established five years ago, by a youth group called 'House of Action'. He added one of the members of the festival team who left Gambia for Germany, made connections with a health facility in that country to assist their community with medical items. He said the German health facility henceforth supports the peace festival as well as the Health Centre of Farato.
According to Njie, the equipment they donated to the Health Ministry are new and would help frontline workers in the fight against the spread of Covid-19. Njie said the donated items are of the new generation technical equipment which should be useful to bigger health facilities in the country.
In receiving the items, Karamba Keita, the Deputy Permanent Secretary (Technical) at the Health Ministry said the organization's donation to his Ministry was not the first time. Keita, who was speaking on behalf of Gambian Health Minister Dr. Lamin Samateh, acknowledged the gesture on behalf of the Minister and said the donation will add to the efforts of their Ministry in combating the virus.
''Without proper equipment, even if the person knows health service delivery to their fingertips, they would not be able to perform without having the requisite tools,'' he said. He further told the gathering that they were reliably informed that each of the infusion sets costs 2,000 Euros; that this was quite a sum considering the number donated by the association. He applauded their efforts and thanked them for the donation on behalf of the Ministry of Health.