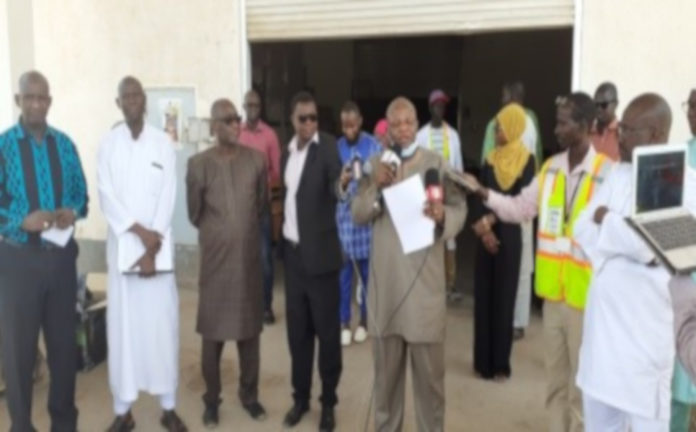 By Momodou Jarju
ECOWAS through its health specialized agency 'WAHO', has donated medical items to Gambia's Health Ministry in a bid to combat the deadly Coronavirus.
For this reason, Claude Kandor, the ECOWAS representative in the Gambia, urged health officials to use the donated medical items that the sub-regional organization has donated to the country for their intended purposes.
''I am pleading the indulgence of health officials to use these items for their intended purposes. I am sure ECOWAS would do everything possible to ensure that it continues to support member states.'' These were the words of Claude Kandor during the handing over ceremony of the items held at the Kotu Public Emergency facility last Thursday.
The donated items include tablets of Chloroquine Phosphate 250mg; test kits; Azithromycin 250mg packs; personal protective equipment (PPE) and Viral Transport Medium (VTM). Out of these items, the Health Ministry received 1, 000 test kits and 10, 000 tablets of Chloroquine phosphate 250mg. Kandor said the remaining items were on their way into the country, noting that some of them are in Dakar with DHL.
''The items are supposed to be here since the 6th of April but circumstances beyond the control of DHL led them to be late,'' he said. Kandor further said that the world is grounded at the moment describing it as something he had never experienced since he was born; that every day, confirmed cases of Covid-19 are being reported and to him, this kind of situation is not expected in the 21st century; that what is sad about the situation is that there is no cure for this deadly disease yet, making the situation difficult for people.
Speaking on behalf of the Minister of Health, Karamba Keita, the Deputy Permanent Secretary (Technical) thanked ECOWAS and WAHO for their assistance, in the fight against Covid-19. Keita said the 1, 000 test kits received were handed over to the Medical Research Council (MRC); that they have also received the date for the arrival of the remaining medical items due this month.
''So all these items are quite significant and at the moment needed by countries the most. That is why ECOWAS and WAHO think it fit to help countries in their drive to stop the spread of this deadly virus,'' he said. Keita further said no one the world over, was prepared for such a pandemic; that even the so-called super powers are crying today due to the pandemic.