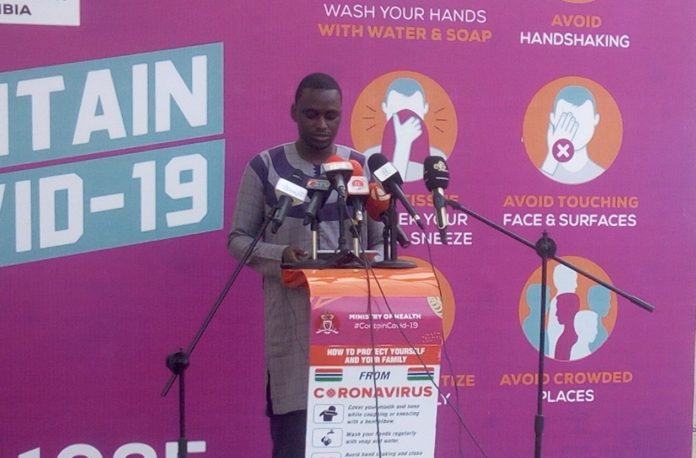 By Nelson Manneh
Dr. Mustapha Bittaye on Friday informed the media that the Gambia has joined the Economic Community of West African States' (ECOWAS) Regional Mental Health and Psycho-social Network for COVID-19 regional response.
Dr. Bittaye said in managing COVID-19 cases, three patients are currently in isolation at the treatment facility; that psychosocial support is also given to sixteen people including isolated patients, people under quarantine and health workers involved in the response activities.
"On risk communication and community management, one television and two radio programs have successfully been conducted and one press briefing," he said; that fourteen Journalists have been trained on risk communication and community engagement.
"Six communities and one hundred and twenty-three households have been sensitized on COVID-19 preventive measures using existing community structures," he said.
Regarding the next step of the Ministry of Health, Dr. Bittaye said the Ministry will embark on conducting thorough contact tracing in the North Bank Region in order to trace all possible contacts of the recent patients who came into the Gambia through Farafenni; that the Ministry will also engage the Supreme Islamic Council on the domestication of Ramadan guidelines on COVID-19 preventive measures.
Dr. Bittaye said they will strengthen surveillance at all points of entry and will carry out voluntary testing of all patients with respiratory symptoms at health facilities.
"The Ministry will engage private pharmacies to report clients presenting flu-like symptoms of the RRTs and we will establish isolation centres in all major health facilities and hospitals," he said; that COVID-19 is real and he urged the general public to strictly adhere to World Health Organization and the Ministry of Health recommendations and guidelines on the disease.
Dr. Bittaye said the Ministry of Health will call on Local Government authorities and Security personnel especially those within border communities, to carry regular patrols and close monitoring of movements of people and goods within their jurisdiction.