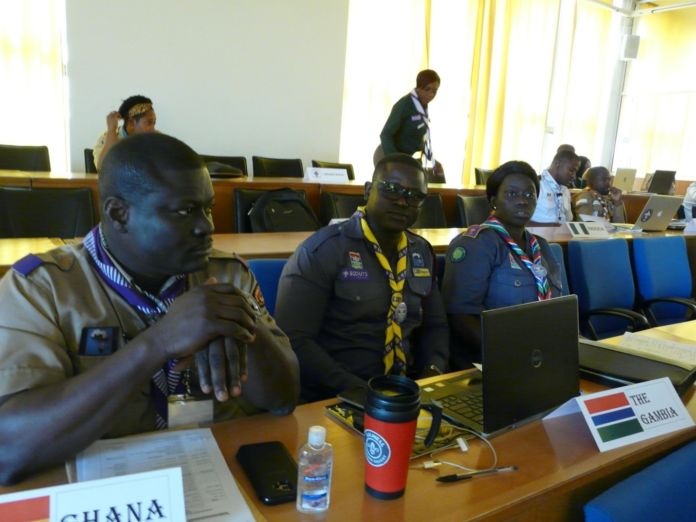 By Ndey Sowe
Over 80 Scouts and Partners from 14 West African countries and beyond have converged in Praia the Cape Verdian capital, to discuss different issues related to young people and make recommendations.
This is the 14th Conference of the Zonal Youth and the event is organized by the West Africa Scout Committee in partnership with the World Scout Bureau's Africa Support Center in Nairobi Kenya.
The conference aims to provide a learning platform and increase youth decision-making processes at the Zonal Level with the theme: "Scouting: Youth Leading for Peace".
Speaking at the opening ceremony, the former President of Cape Verde Pedro Verona Pires said West Africa is one of the diverse zones in Africa but yet diversity in management has been a challenge in the Zone and in leaderships on the African continent.
"We should all remember that we are companions in the journey of life and we are all subjects to the troubles faced by mankind," he said.
The former president who was decorated as a Scout during the opening ceremony, said racialization thoughts make people who share same country or continent, kill in the name of ethnic beliefs for superiority.
"We cannot pretend as if we have not seen things happening in our surroundings. We need to realize that we can buy anything from the supermarket except dignity, love, and loyalty. But the values of scouting can be used to salvage the world,'' he said.
During the Conference, the Gambia Scouts Association was elected to host the next West Africa Zonal Youth Forum and 16th conference in 2022, after the 2021 Zonal Conference which will be held in Guinea Conakry.
The Gambia Scout Association was established in 1921 and will be 100 years in 2021.