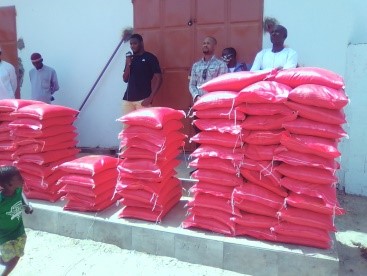 By: Kebba AF Touray
Human Appeal International, charity organization based in Ireland, on Wednesday embarked on a distribution of food aid to three institutions within the Greater Banjul Area.
The charity distributed over one hundred bags of Rice of 25kg to three beneficiaries namely The Gambia Prison Services , GOVI , and Tanka-Tanka psychiatric hospital respectively.
Speaking at the presentation ceremonies, Mr. Momodou Njie a representative of the Human Appeal International in The Gambia, conveyed appreciation to the Director General of the Gambia Prison Services for accepting the food aid package meant for the inmates.
Mr. Njie said the establishment is a global charity network working across the world giving support and care to families.
He added that this donation is designed to contribute to the national pandemic relief package and to help provide food to the needy during Ramadan
He said in 2015, Human Appeal International based in Ireland, donated medical items to the ministry of health worth over two hundred thousand Euros.
He added "This was followed by another container loaded with surgical and medical equipment, which was donated to Edward Francis Small Teaching Hospital in February 2019.
He also stated that in the same year, there was shipment of second hand clothing to improve living condition of vulnerable citizens.
He said the organization is also donating more than one hundred bags of Rice to three vulnerable institutions within the Greater Banjul Area.
He said the objective of the donation was to impact on the livelihood of the vulnerable people in this country.
He said they are ably representing the organisation in the Gambia to ensure that this food Aid reach the right people.
Matty Senghor Njie a representative of Human Appeal International The Gambia expressed appreciation to the management of Gambia Prison services and other institutions like GOVI and Tanka Tank psychiatric hospital", he noted.
Saikou Kawsu Gassama Director of Administration Gambia Prison Services, said with this donation, they are really tough for this benevolent gesture provided by Human Appeal International based in Ireland.
He cited this was a clear indication that this organization is a charitable organisation and the good work that is working towards helping people during the times of need.