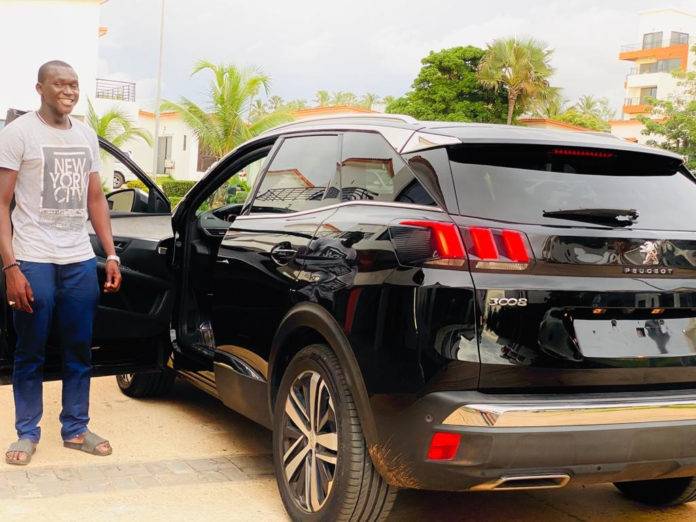 By Ndey Sowe
Gambian businessman Alasan Gent Ceesay, who is the CEO and founder of Rahma Gambia Ltd, one of the few Gambian owned businesses in the food and commodities sector in the country, rewarded the ''hard work and loyalty'' of one of his staff with a brand new car.
A five minutes video showing the businessman surprising the staff with a brand new Peugeot 3008, 2019 edition went viral this week with more than 100,000 people viewing it on Facebook.
The lucky staff was named as one Fakebba Ceesay (not related), the operations manager of the company.
The surreal moment when Fakebba was presented with the gift was captured on video. He could be seen reacting in disbelief and shock, saying "Alas, this type of [surprises] could kill people".
The beneficiary also took to his own Facebook page to thank the benefactor, saying only God could reward him for his gesture:
''My biggest gift in life. I don't know what to say. Thank you very much. Only ALLAH can reward you. I am so happy and speechless.''
CEO Alasan Gent Ceesay said the gift was a token of appreciation ''to say thank you for the wonderful job he has been doing at Rahma''.
''This car gift is nothing compared to the loyalty, hard work, and commitment this gentleman is doing to make sure the company keeps moving forward. Employee recognition will put a smile on a person's face, therefore making him happier and creating an overall better workplace,'' he added.
Hundreds of Gambian social media users reacted positively to the gesture, with one describing it as 'unprecedented in the Gambia labor market'.
Life-changing support to a 90-year-old woman and her disabled son
A few weeks earlier, CEO Gent Ceesay, in a similar surprising move, also came to the aid of a needy nonagenarian and her adult disabled son in Jarra Soma. Upon seeing the old woman's plea for assistance on the popular What's On Gambia platform, Mr. Ceesay decided to take charge of the welfare and wellbeing of the old lady and her family for life.
He has since started renovating her house and donated two sets of beds, bags of rice, and a monthly cash allowance.