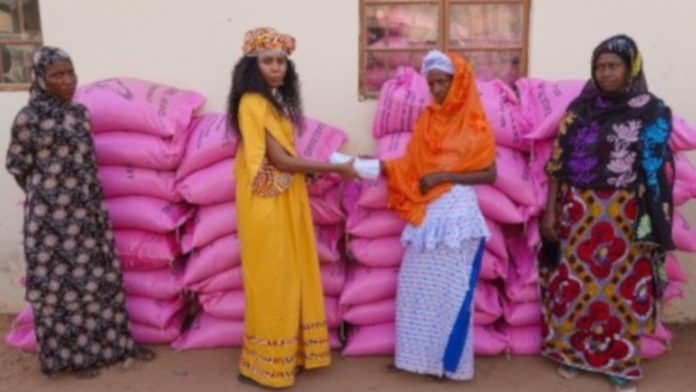 By Makutu Manneh
Jaha Dukureh, a Gambian Civil Society activist has donated over 2,000 bags of rice and money to vulnerable communities in the country.
This gesture of Ms. Dukure is to support families during this global corona virus pandemic and the Muslim holy month of Ramadan. Ms. Dukure started the donation at her village of Gambisara and extended the gesture to communities in Kiang West, Jarra, Badibu and the URR. Some households within the Kanfing Municipality also received support from Ms. Dukure.
Ms. Dukure who partners with the National Youth Council, National Disaster Management Agency, Gambia Red Cross Society and Safe hands for Girls to distribute the rice, said she took money from ''my own account to do this for my country.'' that since she has been blessed by Allah, she wants to give back to her country especially during this time of the deadly coronavirus pandemic, when people are financially affected; that it is also another way to honour her mother who passed away when she was fourteen years old.
Mam Lisa Camara, the National Coordinator for 'Safe Hands for Girls' expressed the honour of being associated with Jaha, in distributing the rice.
Camara said it was very noble for her to take her personal money and give back to her country; that the donation will bring the much needed assistance particularly for women led households who are struggling to meet the needs of their families in these difficult times.
On behalf of his community, the Alkalo of one of the beneficiary villages applauded with delight, the gesture of Ms. Dukure, in receiving support from Jaha and her team during such difficult moments.
"We do not know her. Therefore, all we can do is to pray for her and thank her for the solidarity," he said.