By Makutu Manneh
The Senegalese Government has set-aside 12.5 billion CFA (about a billion dalasis) to support their citizens in the Diaspora including those living in The Gambia.
This was disclosed to Foroyaa on Thursday, 9th April 2020 by Bassirou Sene, High Commissioner of the Republic of Senegal in The Gambia at his office.
Sene said this is the biggest pandemic and almost every sector of the society is affected therefore people need help to survive.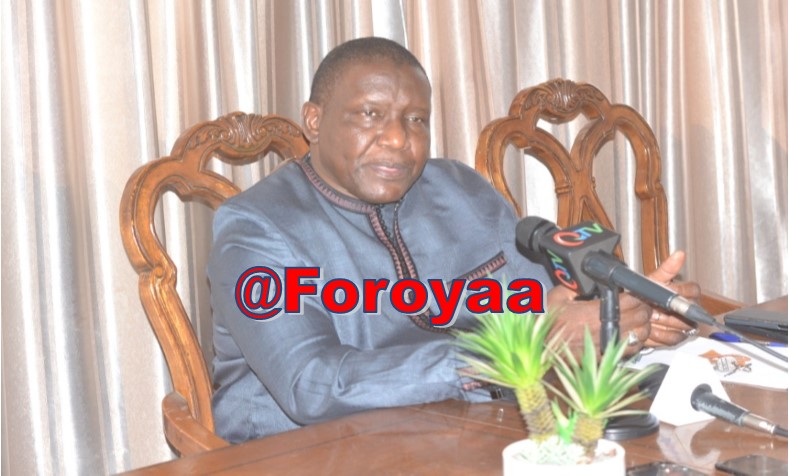 He said on the 3rd April 2020, President Macky Sall of Senegal told the people that the Government has set-aside one thousand billion to be spent in the fight against the Coronavirus, commonly called COVID-19. He said out of this sum, twelve and a half billion will be used to support vulnerable Senegalese in the Diaspora whose livelihood has been affected as a result of the pandemic.
He said the fund will be distributed to important Diaspora regions including The Gambia.
He said the fund is only meant for the vulnerable Senegalese living in the Diaspora. Ambassador Sene said there are a lot of Senegalese residing in The Gambia and their source of livelihood have been affected by the measures put in place by the government to close their workplace.
"Those who are not working, those whose businesses were closed and those finding it difficult in this pandemic situation will be beneficiaries of the package," Mr. Sene said.
He said the people are required to write to the Embassy seeking for support but they must attach documents showing they are Senegalese and documents showing they are living in The Gambia.
"The fund is not yet disbursed but anytime we receive the money we will call those who seek support to come and collect it. I can't say whether it is going to be cash or kind, but all I know is we are anticipating the support from our Government," he said.
He said their authorities are currently discussing on how to utilize the fund and whenever they reach a decision, it will be made known to the people.
"I can't tell whether we are going to give rice or oil, or we are going to support their projects. Whenever the decision is made by the authorities in Senegal, the people will know," he said.
He said their authorities in Senegal are currently discussing it and very soon a decision will be taken.
"The money hasn't come yet and those coming to the Embassy should know that. We are only anticipating help from Senegal," he said, adding that "the form of help is not known and whenever a decision is reached in Senegal by the authorities in charge, it will be communicated to them and thereafter, the fund will be disbursed."