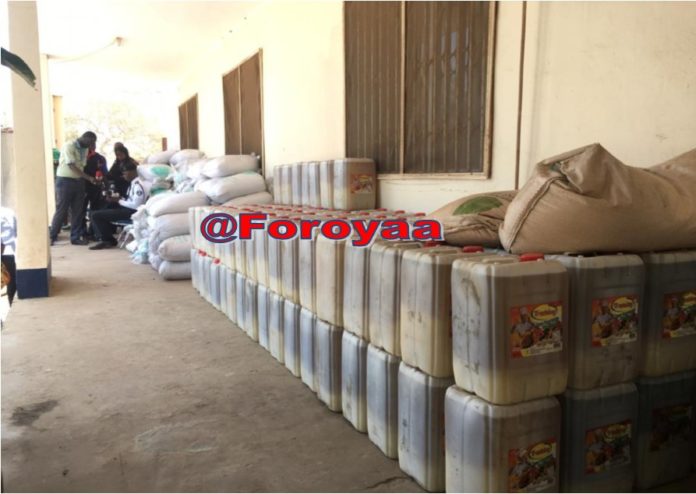 By Mustapha Jallow
Gambian Police on Wednesday confirmed that several Gambians, Bissau Guineans and Senegalese nationals have been arrested by state security agents for smuggling essential commodities outside the country.
Police spokesman remarked: "Most of the people involved in these smuggling activities were Gambians, including Bissau Guineans and Senegalese.''
He was speaking to journalists at the Anti-Crime Unit (ACU) headquarters in Bijilo on 8th April 2020.
He added, "All these commodities have been intercepted by certain individuals who were about to smuggle these commodities outside The Gambian borders.''
He explained: "We are aware of the Emergency Powers, which have made it very clear that no one is supposed to export essential commodities out of The Gambia. So, this is very clear in the laws of The Gambia in Emergency Powers and Regulations 2020 – but we have seen some individuals are in the business of smuggling essential commodities outside the country.''
According to the spokesman, the intercepted food commodities are currently in the custody of Anti-Crime. He added that there are dozens of arrested trucks loaded with commodities along the Banjul high-way around Radio Sud.
He added that the lined-up trucks were bent on smuggling commodities outside The Gambia. He said the intercepted commodities from these smugglers are: gallons of oil, bags of onion, bags of rice and so on.
What is teetering, he continued was that about four thousand (4000) bags of sugar were part of those items to be smuggled out of the country.
Police spokesman further explained: "These individuals were taking these items to Casamance, Guinea Bissau or some other parts of Senegal –boats were also intercepted.''
He said some of them were charged under the Emergency Powers Regulations Act 2020 and the matter was already mentioned in court – and they were to be prosecuted.
"Some are already in court as we speak right now,'' he said. "Many people were arrested, because we counted about twelve (12) of them, but the operations were ongoing. This is why we definitely need the support of the general public when it comes to information sharing,'' he said.
Police spokesman, however, urged the general public, especially those in the communities around the borders to be vigilant and to ensure that anytime they see vehicles leaving the high-way they can bring it to the attention of the authorities.
"So, we want the communities to help and inform the Police at any point in time they see vehicles or boats that are destine to transport commodities outside of the country – and then to share this information as quick as possible to the securities, so that they will intercept those smuggling these commodities,'' he urged.
He continued to say that they want the public to be aware of the issues of food security and national security. He said: "Government has made pronouncement and we heard it, therefore we want the public to support the Police, so that we will be able to secure our borders and our essential commodities as food security is also part and parcel of the fight against the Covid-19 pandemic."