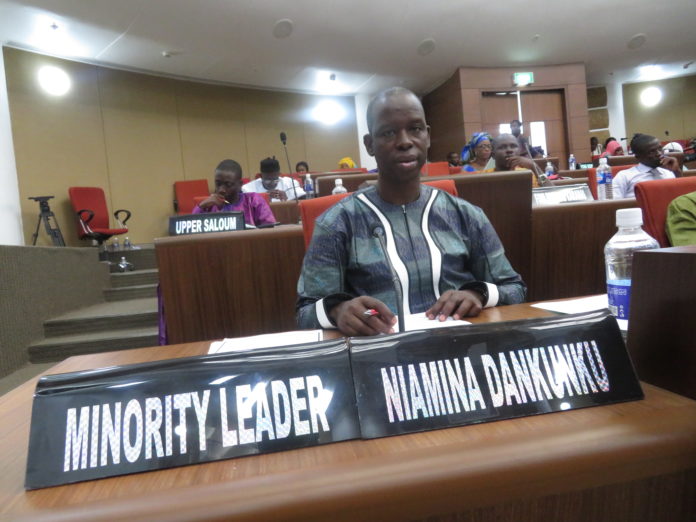 By: Kebba AF Touray
Minority Leader and Member for Niamina Dandkunku, Samba Jallow, has raised concern on the regulations that were designed by the State in the wake of the State of Public Emergency.
He urged that shops selling essential and non-essential commodities in the markets should be allowed to operate, adding that what is prudent for the authorities to do is to set the time frame regulating when they should open and close. He said this proposed directive, if implemented, will allow entrepreneurs selling non-essential commodities to operate and generate income and buy essential commodities such as foodstuffs.
He said if the shops selling non-essential commodities are forced to close, then it means the person selling the essential commodities would be technically deprived of income because he/she would lose customers and clients.
He said the movement of porters and petty traders (Beychek) needs to be looked into, as their activities are not regulated and the containers they used in carrying their goods can be contaminated.
He also called on landlords to reduce the house rents for their tenants during these trying times, and called on the government to dialogue with landlords to make this a possibility.
He stressed: "I believed the proposed 90 days is just a breathing space, but what we should focused on, is the impact of these regulations on our people in these trying moments. The country is in a critical situation and in case the 45 days elapses and the Assembly is not in session, this would lead to another extraordinary session".
He lamented "We know that the ordinary sessions come with its financial implications which this Assembly should calculate. I pray that the COVID-19 goes before the 45 days, but what if that is not the case. What will be the position of the Assembly in calling back for another extraordinary session, to approve another 45 days, as this will call for another financial implication".
He added we need to compare these two things and make a decision that will be helpful to our electorate.
He stated that the Assembly is facing a difficult task to ensure that their people are not affected by the COVID-19 Pandemic at the same time making sure that they do not go hungry as a result of the decision the lawmakers would make to protect their constituents from the disease.
He said: "These are two complicated and critical issues that we have to critically look into. We still need to sensitize the people so that they have adequate information on the objective behind the state of emergency. This will help them have clear understanding of the pandemic, which is central in containing it in the country".