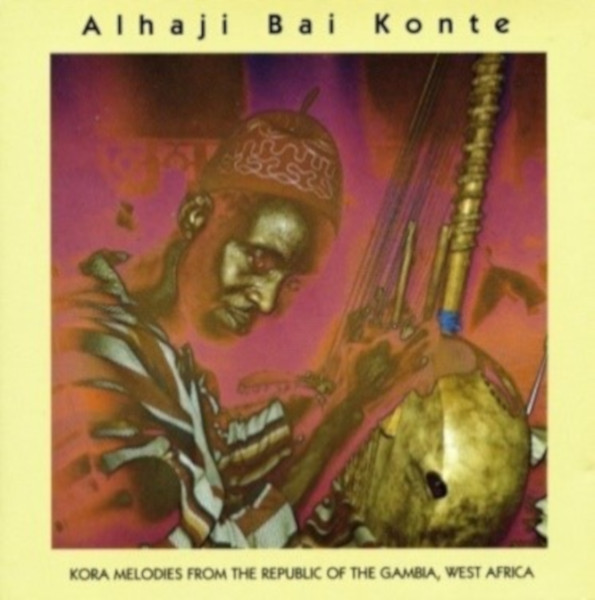 Continuation….
Welcome to another edition of the Arts and Music, the Column that seeks to promote Arts, Music and Culture in the Gambia. In this edition of the Column, we will continue with our feature on 'Return of Gambian Griots', an article written by Banning Eyre / Hatab Nyang. In this Edition, we will take a look at HOW ALHAJI BAI KONTE HELPED TO BRING THE KORA TO NORTH AMERICA from Africa and from his native Gambia in particular.
Alhaji Bai Konte was not the first known 'Kora' musician to reach the USA, but he was the first soloist who reached mass North American audiences through radio, television, internationally famous music festivals and diverse venues over a seven-year career.
The net impact of Alhaji Bai Konte's trail blazing career was both supported by and also influenced many people who connected with the Kora through his North American concerts and Albums such as 'Alhaji Bai Konte and Gambian Griot Kora Duets', which are discussed elsewhere on this site.
His sons, Dembo Konte and Malamini Jobarteh toured with Alhaji Bai Konte until his untimely passing.  Later, they continued his legacy, touring the world for decades and producing their own influential albums.  Now the sons of Dembo and Malamini are touring as Great Gambian Griots, also continuing the legacy of Alhaji Bai Konte.
Dr. Rod Knight at Oberlin College, and others brought Kora masters to the USA before and after 1973. Dr. Lucy Duran of the University of London's School of Oriental and African Studies helped the Konte family's tour to expand worldwide Virgin and Rogue Records became interested to publish the amazing albums that she produced for them (Konte Family Album of 1982; Simbomba of 1987 and Jali Roll of 1989. The combined and prolonged devotion of both Dr. Knight and Dr. Duran expanded the accessibility of kora music worldwide, exciting others to teach, learn and enjoy kora recordings and live performances.
Pete Seeger and Taj Mahal shared their stages with Alhaji Bai Konte many times, elevating his stature and encouraging other professional musicians who joined with him informally and on stage.  Taj Mahal toured West Africa, performing live in Gambia with Alhaji Bai Konte, Dembo Konte and Malamini Jobarteh.
In Mali, Taj connected with many excellent traditional musicians, including Toumani Diabate (blood relative of Malamini Jobarteh, father of Pa Bobo Jobarteh). By 1999, Taj collaborated with multi-talented Dr. Lucy Duran as producer, plus talented guitarist and Afropop Worldwide's executive producer, Banning Eyre (guitarist on a Kulanjan album track).  Working with Toumani Diabate and other extraordinary Malian musicians, Taj created the Grammy nominated album Kulanjan.  That album broke new musical ground by demonstrating the linkage between traditional kora music and American blues styles, and was recommended as an outstanding album by President Obama.
Others welcomed Alhaji Bai Konte and the kora into the worlds of folk music, jazz and the mass media.  A partial list of these people includes: Dr. Kenneth Goldstein, Paula Ballan, George Wein, Ralph Rinzler, Terry Gross, Mary Clife, Bill Nowlin, Moses Asch, Ben Barkin
Drs. Knight and Duran and Taj Mahal pioneered within academia and the music industry.  Their missions continued for decades, making the kora, its music and griot kora masters more accessible worldwide.  Others toiled toward the same goal, driven by respect and love for the kora and its musical culture. Some prominant figures in world music as of 2020 credit their awakening to the kora and its music to Alhaji Bai Konte, influencing life-career choices.
For example, a French monk also devoted much of his life's work to a similar mission, perfecting how to make the kora and its music more available to Western musicians by developing guitar and violin styled necks and tuning, transcribing the music for classically trained players.
A bi-continental private company, The Kora Workshop emerged with facilities in UK, France and Senegal, devoted to making, selling and teaching kora.
USA country musician Steve Pile studied kora with Jali Bakary Konteh, then worked for years in the USA to raise money used to build a lovely school in Gambia to teach kora and other traditional Mandinka music.  There were and are others with related missions.
Those additional stories will be treated elsewhere in this WWW site.  This page is more narrowly focused on how Alhaji Bai Konte and his family brought their kora artistry to North America, with the help of many people and organizations, so numerous that they will be treated in other "backstory" pages.
Here is a brief overview of Alhaji Bai Konte's part in the story of how the kora came to North America.
Wearing a majestic robe bedecked with gold threads and a stately maroon fez, his first show was at Franklin and Marshall College, near his home base at Lincoln University, Pennsylvania.  The standing room only audience was transfixed as if spellbound. The sound of strings plucked and strummed seemed to arise from thin air, filling the packed hall with shimmering cross currents of melody and counterpoint in subtly pulsing rhythms.  His face beaded in sweat from intense concentration, Alhaji Bai Konte from Brikama, Gambia, finished with a rousing glissando and stood bowing to prolonged applause.  He followed with an encore, so brilliant that it was added to his album when it was re-released years later as a CD.
His entire summer flew by just like that.  One ovation followed another: New Orleans Jazz and Heritage Festival, National Festival on The Mall, Philadelphia Folk Festival, Mariposa Folk Festival and many more all that summer.
In 1979 Alhaji Bai Konte and Dembo Konte performed in two concerts celebrating the 10th Anniversary of Woodstock in Madison Square Garden's Felt Forum.  There, they played with the most popular acts of the day, including maestro Taj Mahal, Richie Havens, Country Joe and the Fish, Canned Heat and others.  Taj's performance with the Kontes was so outstanding that it was featured in a Hollywood quality documentary filmed live at the Felt Forum.
Gambia's Alhaji Bai Konte teased unimaginable music from his Kora, a 21-stringed African harp that some people say dates back more than four hundred years. He went on to tour the USA for six and a half additional years as a duo, paired at different times with one or the other of his two sons, Dembo Konte and Malamini Jobarteh.
After 1981 the family went on to tour the world until Alhaji Bai Konte's untimely death in 1983. Dembo Konte and Malamini Jobarteh continued touring the globe for more than two decades until their deaths; Malamini in 2013 and Dembo in 2014.
Alhaji Bai Konte opened the door for all Kora musicians who followed him to North America. Dembo Konte and Malamini Jobarteh released more albums. Like their father, they played venue after venue, country after country, reaching a huge audience through live performances and on Radio and TV.
The late Alhaji Bai Konte was Mandinka by decent, an oral historian, a marabou, musician and a griot's griot.
Read part 1 https://foroyaa.net/unearthing-the-roots-of-gambian-mande-jalol/