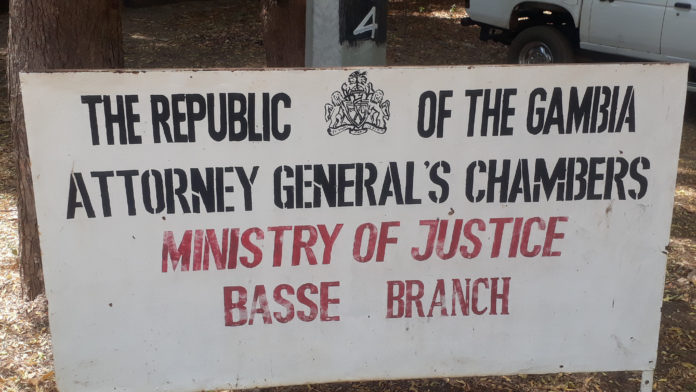 By Lamin Fatty
The High Court in Basse on Monday June 8th 2020, resumed hearing in the Koina arson case after a break of over two months amidst the corona virus lockdown.
The Court which was presided over by Justice Landing Sanneh, saw Counsel Lamin K. Mboge appearing for the complainant Mahamadou Sanneh, the arson victim, and Counsel Pa Harry Jammeh appearing for Ganbanaaxu Fedde Association.
When the names of the accused person were mentioned, there were 26 accused persons on the charge list. The Court realized that there were three people whose names were newly added to the list, but it was not filed.
Defend Counsel for the complainant Lamin K. Mboge, applied for adjournment so that those the names of the three new accused persons can be filed which was granted by justice Landing Sanneh. The case was then adjourned to the 29th and 30th of June 2020 for hearing.
If readers can recall, the arraignment of these accused persons before the Court came as a result of a clash between people of different caste in Koina on Saturday 25th May 2019, resulting to injuries after houses were set ablaze.
The defendants are charged with unlawful and willful assault causing actual bodily harm contrary to the Criminal Code. A second Count against the accused persons was arson contrary to Section 305 of the criminal Code and the case was subsequently transferred to the High Court and the accused persons were remanded at the Janjang Bureh Prisons.
On Monday 30th July 2019, the accused persons were granted bail in the sum of D50,000.00 each and asked to produce one Gambian surety who shall swear and depose to an affidavit of means, in the like sum.
The matter was then adjourned to the 28th October 2019 at the Basse High Court for plea taking.
Unfortunately, the High Court in Basse did not sit until Wednesday 19th February 2020, when the case was called before Justice Bakary. Counsel Azizz Saho who appeared for the state on that day, applied for adjournment for the State to complete other documents required. Hence the charges against the accused persons were increased from 3 to 30 Counts.
The case was then adjourned to 23rd March 2020, but due to the state of public emergency amid the Covid-19 pandemic, the case could not proceed.