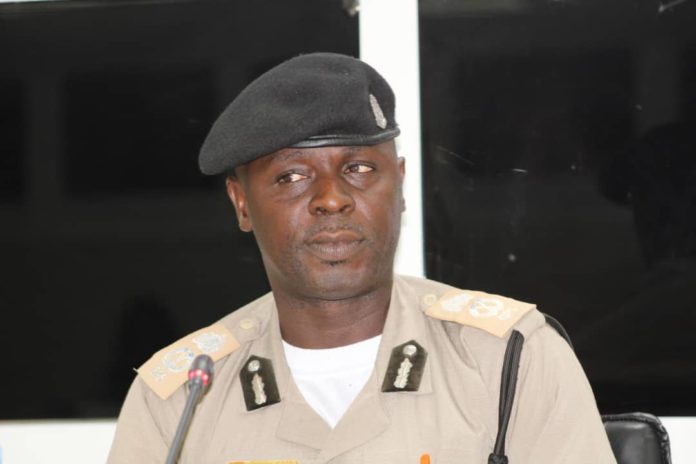 By Nelson Manneh
The Commissioner of Operations at the Gambia Prison Services on Wednesday June 10th 2020, testified before the Truth, Reconciliation and Reparations Commission (TRRC), regarding prison services during the 22-year rule of former president Jammeh.
Lamin Sowe, alias 'Jumbo' testified that their role as a Prison Department is to rehabilitate inmates to become better persons in society after the completion of their prison terms.
In his testimony, Sowe said David Colley, the former Director General of the Gambia Prison Services, used to beat some of his orderlies when he finds them sleeping; but he was quick to add, that Colley had confidence in him; that as Commissioner of Operations, he had accompanied him to various places.
Commissioner Sowe told TRRC Commissioners that some inmates were detained at the Security Wing without mattresses; that people were detained at Mile 2 under the instruction of ex-president Yahya Jammeh, through David Colley, who was the head of the Department at the time; that they used to demand for medication from the central medical stores but they were often not provided; that armed men used to bring detainees into the prisons.
Continuing his testimony, Sowe said as Commissioner of Operations, he is in charge of discharging prisoners and as well as to discipline both prisoners and prison wardens under his purview; but that he has never resisted Jammeh's Executive Orders because it was dangerous to do so; that all executive directives should be written but under Jammeh's era, this was never the case.
Sowe said there were two teams in charge of keeping detainees and they were the NIA and 'Junglers'; that there was no specific team in prison responsible for detainees.
"David Colley and I were most of the time involved in keeping the detainees. Our actions were unlawful but that was the order of the day and we cannot refuse the order of the Director General," he dilated.
He said people were brought into Mile 2 under Jammeh's rule, without his knowledge. He cited Imam Baba Leigh as one example.
Sowe said when he took over from Commissioner Ebrima Jammeh, he toured Mile 2 and heard inmates chanting and insulting Jammeh, because they were not happy with the way he treated them; that some of the inmates were physically tortured while the provisions including food were taken from others; that all this happened under Commissioner Jammeh's administration.
Sowe said he was dismissed from Prison services, but was reinstated after the change of Government in 2016.