By Yankuba Jallow
The Gambia Press Union GPU has awarded outstanding journalists in various categories of writing, at a ceremony held in one of the local Hotels in Kololi, on Friday the May 4th 2018.
The National Journalism Award as it is now known, brought together journalists and writers from different media outlets. This is the third edition of the Awards Night organized by the GPU.
The categories of the awards were political, business, environmental, women and children's issues, agriculture, health and medical, sport, human rights and feature reports.
The judges were Dr. Baba Galleh Jallow, the Chairperson of the jury and the panelist were Agnes Thomasi of WADR, Sheriff Bojang Jnr of WADR and Aisha Dabo, formerly with the Independent Newspaper. The following received awards in their categories of reporting: Ebrima Baldeh of GRTS awarded best political reporter, Kebba Jeffang of Foroyaa, best business reporter, Isatou Jatta of GRTS best environment reporter, Modou S. Joof of the North Bank Evening Standard best agriculture reporter, Halimatou Ceesay of Teranga FM best health and medical reporter, Isatou Keita of GRTS best human rights reporter, Mustapha K. Darboe of the Voice Newspaper as best features reporter, Omar Jarju of West Coast Radio as best sports reporter and Mustapha K. Darboe as best Children's reporter.
Speaking at the ceremony, Samuel Sarr of Foroyaa Newspaper said journalists must love the truth; that the Constitution of the Gambia provides for the Press to hold Government accountable. He said the Press Union has made headways in particular, the establishment of the School of Journalism. He urged young journalists to utilise the GPU School to build their capacity and be more professional.
In a statement on behalf of the Secretary General of the GPU, Abdoulie Nget said the National Journalism Awards gets bigger by the year; that this year, there has been remarkable improvements on the number and quality of entries received and reviewed.
"The media today exudes confidence, in the hope of successful democratic reforms. The repeal of the anti-speech Laws is in progress. A media self-regulatory mechanism is being established to safeguard media freedom and responsibility. The learning and teaching of journalism has improved," he said.
"Kudos therefore, to successive GPU leaderships, for standing guard through those long, painful years and for creating solid foundations upon which this current executive led by Bai Emil Touray, has built upon to steer journalism in the Gambia," he said.
Other speakers on behalf of the Awards Committee and the judges respectively, were Musa Sise, the Chairperson of the Award Committee and Agnes Thomasi, a member of the judges.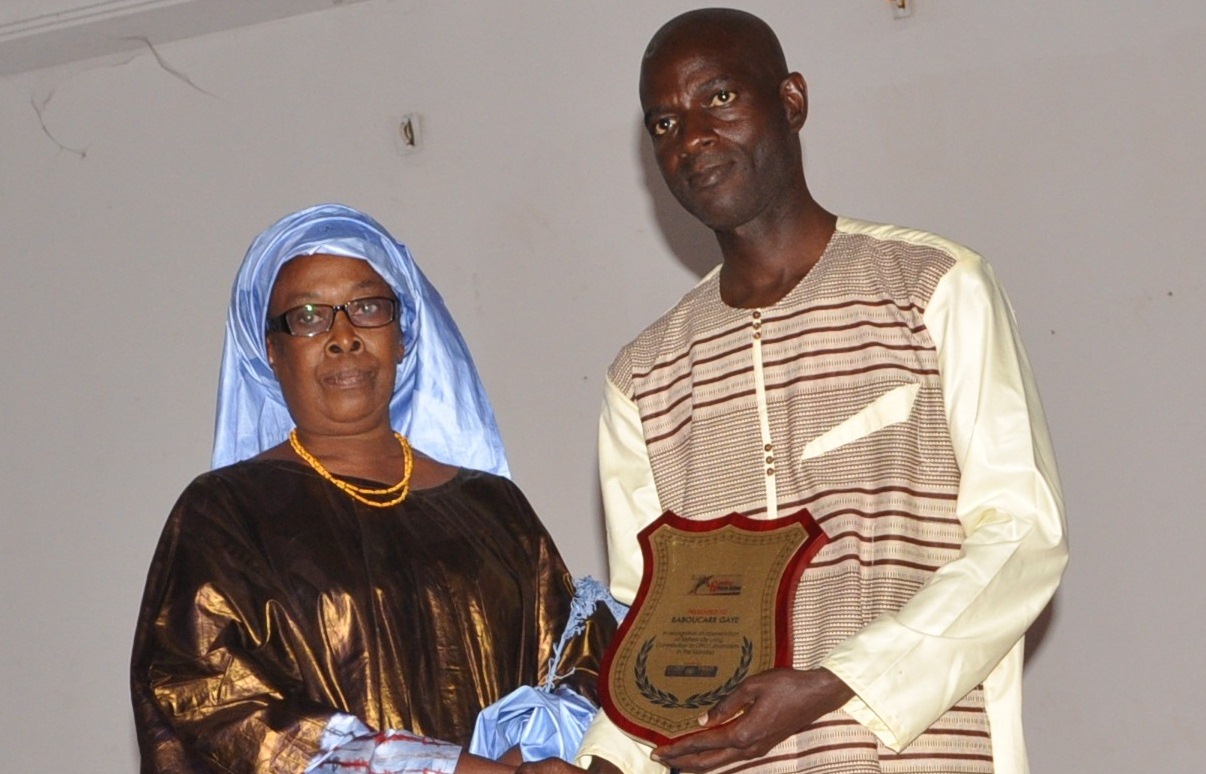 Honourary Awards were given to Pap Saine of the Point Newspaper, Samuel Sarr of Foroyaa Publishing Company, Alagie Yorro Jallow of the defunct Independent Newspaper, Late Baboucar Gaye and Bijou Peters, for their tremendous contribution in the Gambian media.
 Mrs Marie Jagne receiving the award on behalf of her late husband from GPU President Emil Touray