By Nelson Manneh / Louise Jobe / Muhammed S Bah
The paucity of water and electricity has marred the Feast of 'Eid Ul Fitr' on Friday June 15th 2018 within the Greater Banjul Area. Many people in particular women and children, could be seen in their numbers, roaming the streets of Serre Kunda and diverse areas within the Kanifing Municipality with containers of all sorts, to get this precious liquid. Many could also be seen in their numbers in NAWEC sub-stations, fetching water amid chaos.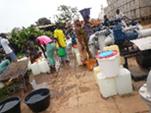 Compound owners with overhead tanks, stretch out pipes to give water to their neighbours.
However the situation at the NAWEC sub-station in Serre Kunda, was the most chaotic with scuffles breaking out among people just to get the precious liquid. One Kaddy Sanneh who struggled so hard to get water, told this reporter that she did not get water in her household for 72 hours; that at the time the problem started on the 13th June, she got up by 4 am to fetch water; that she was lucky to fill all her containers, which barely last for twelve hours; that after this period, all hell broke loose for them to get water; that they fetched water from every corner of Serre Kunda including open wells that have not been used for some time. Sanneh said she struggled very hard with her children to get water from whatever source was available to them, which did not meet a fraction of their household demand; that for forty eight hours, she did not have a bath with her family. Mrs. Sanneh who looks so weary and frustrated, said she rushed to the NAWEC sub-branch in Serre Kunda after being informed by neighbours that the main water pipes of the Tanks were opened for people to get water; that there was an overwhelming rush by people that the place became overcrowded.
Mariama Faal who comes all the way from Bakau, said she was also informed by a relative in Serrekunda, that NAWEC opened the main water pipes to assist people get water. Mariama lamented that during the past regime they have experienced water shortage but not to this level and most especially on 'Koriteh' day.
"No trickle of water is coming from the taps in our community. We fetch water to take bath from wells and this is not suitable for cooking or drinking. Without this gesture, where do you expect us to have water to drink and cook?" she asked.
She added that her children, who came to her carry the gallons, cannot go to the pray ground. Lamin Camara, a resident of Bundung Borehole was also met by this reporter carrying gallons of water in a wheel barrow to their house. Camara said he was not able to attend 'Eid' prayers because he had to assist his mother to get water for the family.
"I cannot leave my mother to struggle and get water for us, by going to the pray ground. I dare not do this. That is why I am staying to help her transport the filled containers to our house, because no one knows when this will end." he said.
Many also came with their owned or hired vehicles and donkey-carts, to the NAWEC Serre Kunda sub-station, to fetch water and transport it to their homes.
When contacted, the NAWEC Public Relations Officer (PRO) Mr. Pierre Sylva, said there was a problem with the cable connecting the generator at the 'Karpower' vessel and that this is why there was no electricity and water in the Greater Banjul Areas.
"Two of the cables that connect to the vessel and the main electricity transmitter, were cut off. This is what brought about this problem which will soon be rectified. We all know that electricity is used to pump water to the tanks. So if there is no electricity, there will be no water supply," he said.
However, towards the end of the day, this medium can confirm that the breakdown was fixed and that both water and electricity supply had improved.
In a similar development, tailors within the Kanifing Municipality remarked that the power outages of recent days have seriously affected their businesses at the tail end of the month of Ramadan, when they are to reap the benefits of their trade. They complain that that this has undermined their ability to meet the high demands of their loyal customers.
Amadou Saidy, a tailor who was found in his shop in Serrekunda, said for nearly forty eight hours, they did not have electricity; that the blackout and irregular supply, lead to the breakdown of one of his best and most expensive machine.
"There was no steady electricity throughout and this led to the breakdown of one of my sewing machines, and the most expensive and the best one among them. This is the machine I use to work on my intricate designs. My customers who do not understand, heap all the blame on me to the extent that some of them insist on getting their monies and materials back. You know this is very painful," Saidy lamented.
Saidy said he does not have a generator to operate whenever there is power outage because it is expensive to buy and maintain one.
Malang Camara another tailor in the same vicinity like Saidy said, one of his customers who claimed his money and material back, took him to the Police Station in Serre Kunda, where he spent the night in detention. "Some customers think we take their materials and monies just like that for nothing. This is quite incorrect," he said; that, if he is taken to the Police Station, he has nothing to explain because he has already used their monies to buy extra material to complete their dresses, and cannot refund them.
Lots of people could be seen gathered at tailoring workshops insulting and demanding for their monies to be given back to them.
The same situation prevailed in Banjul, the nation's City, where people suffered three days of power outages.
Facebook Notice for EU! You need to login to view and post FB Comments!