By Kebba Secka
Travellers from different parts of Europe who landed at Banjul International Airport on Saturday 16th January, 2021, alleged officials from the Ministry of Health seized their passports upon arrival and took them to Badala Beach Hotel for quarantine where rooms are in bad conditions.
They also alleged they paid six thousand dalasi (D6,000) for accommodation and feeding when they are supposed to pay less. The travellers said upon arrival on Saturday January 16th until the time of going to press, they were kept at the hotel without their samples being taken.
This reporter visited the site, but was not allowed entry. Members of the public were caught in pictures taking food inside the hotel. People on quarantine were seen coming into close contact with their relatives at the main gate of the hotel.
A Gambian-Spanish national who shared her concern with the reporter via WhatsApp, said their period of stay at Badala Hotel was 'like hell.' She said some people chose to sleep out door because they could not afford to pay six thousand dalasi charged for accommodation.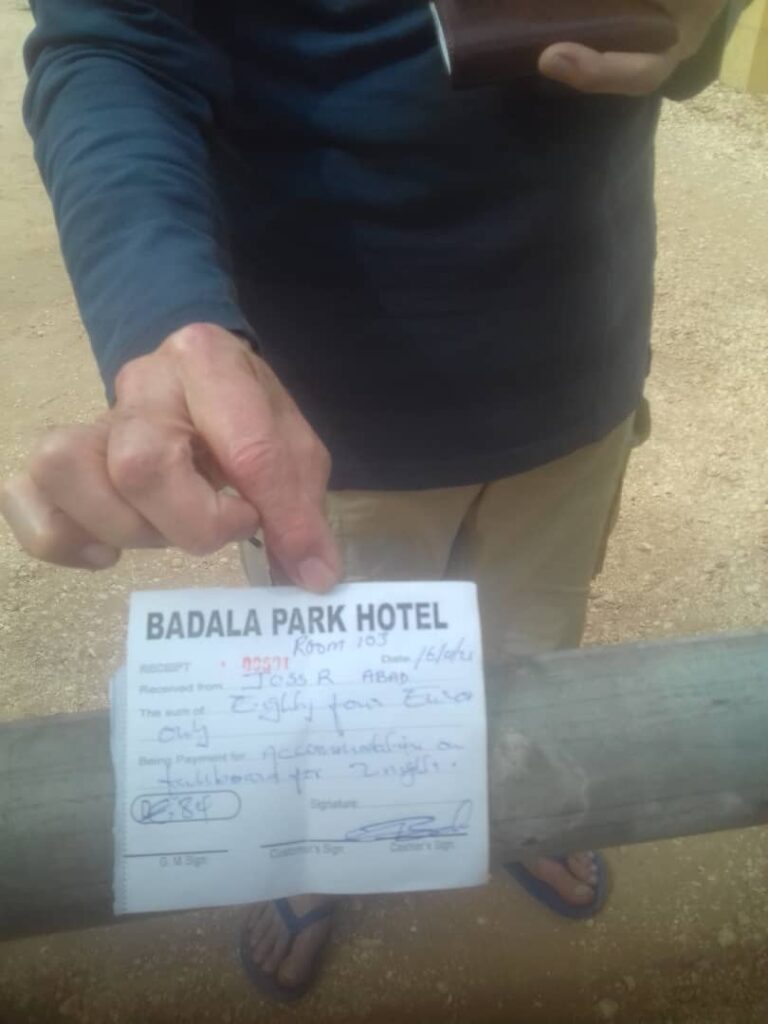 Joss R. Abad, another complainant, shared his receipt for accommodation dated 16th of January which indicated that he paid eighty euros (£80) for two days accommodation at the same hotel.
There's a woman who told the reporter that she didn't take dinner and breakfast at the hotel on Saturday because she had no one within the Greater Banjul Area to bring food for her.
Nonetheless, there were complains of poor accommodation facilities as some rooms were said to be without television, air-conditioning and access to Internet to name a few.
When these allegations were raised with Director for Health Services, Dr. Bittaye and Modou Njie, Director of Education and Health Promotion, both denied the allegation of seizure of the passports.
For Bittaye, travellers who accepted to be taken for quarantine upon arrival must not get their passports seized. But, he said, those who refused and/or were from non-hotspot countries with a negative test result, must quarantine themselves at home and leave back their passports to the health officials for contact tracing.
"At the beginning, we used to have challenges for one reason or the other. We used to have transportation or accommodation challenges because of high number of arrival (people that need quarantine), but now it is resolved," Bittaye said.
Asked about the rumour that the country now has more suspected cases of the new variant, Dr. Bittaye responded in the positive. He said there are some suspected cases but the public must wait for official confirmation as sequencing testing is ongoing.
He said confirmation of the new variant is not too fast, thus, it required family members of those quarantined to avoid coming into close contact with them.
"People have to isolate from those under quarantine because we suspected four additional variants and we are currently examining them for the final result," health services director told this reporter.
Although, there is probability of more additional new variant, but the director did not specify when the results will be out and announced to the public. He appealed for more vigilant as the virus still exists and remains deadly.
Last week, Ministry of Health while briefing the National Assembly's Select Committee on Health, Refugees, Women and Children on the state of affairs of the country's COVID-19, confirmed to have registered two new UK variant of COVID-19. The ministry said this would lead many to wonder whether the current suspected positive cases will be from UK or other parts of Europe.
The new strain of COVID-19 is described by health officials as fast spreading and transmissible.
Commenting on the payment of six thousand dalasi (D6,000), the director denied the allegation, saying he had verified with the hotel owner who confirmed to him two thousand three hundred dalasi (2,300) per person was the amount paid by each of those on quarantine.
The Ministry's press release dated 4th January indicated that travellers from host spot countries must face mandatory quarantine for two days even if they came with their test certificates.
"All travellers coming from hot spot countries where the new strain of covid-19 has been identified will undergo quarantine and sample taking upon arrival until they have negative result at our own cost," it stated.