By Mustapha Jallow
Madam Fatou Yabou-Manjang, the lady Councillor of Kiang Central in the Lower River Region (LRR), has urged Gambians- especially those in rural communities- to do away with clapping and running after politicians who do not put their interest first.
Madam Yabou made the call at a civic dialogue session on Sunday organised by officials of the National Council for Civic Education (NCCE), with support from United Nations Children's Fund (UNICEF) in collaboration with United Nations Peace Building Fund (UNPF).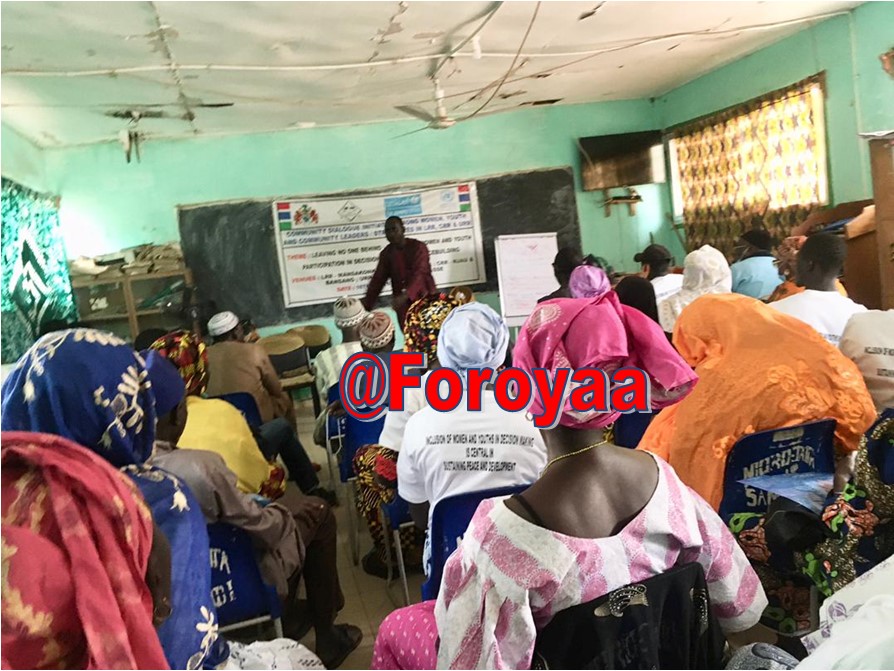 The 6-day outreach programme is aimed at engaging rural Gambians in a dialogue among women, youths, and community leaders and/or structure: under the theme: "Leaving no one behind: Participation in Decision making and peace-building.'' The initiative intends to reach 240 participants, including women, youths and community leaders, plus physically challenged persons.
Yabou said anytime a meeting was conveyed in her area, she used to urge women to empower themselves and put national interest first, while adding that women should educate their children, especially the girl child.
Madam Yabou said that's the only option that can solve most of the challenges women face in the rural areas.
She urged women to stop running after politicians for favours, adding most women have not benefited from quality projects.
Lady Councillor Yabou said women should be dealing with real issues that would bring development to the country.
Meanwhile, speaking at N'jau in Central River Region (CRR), Mr Yusupha Bojang, NCCE's Program Manager, highlighted the issues that usually bring conflict or violence in most communities.
He cited political division and belittling one another's religion or tribe as some of the issues that sometimes bring problems among people.
Salla Bah, also a Lady Councillor from Upper Saloum District, said democracy is misunderstood in the country. She said democracy stands for a government to do the right thing and put national interest above all.
Bah also said democracy has given people the power to hold their representatives accountable, but this, she added has to be done in line with respect for others and not insults.
She called on the civic education officers to extend their sensitization programme to their communities, saying most communities are facing several issues affecting them, such as tribalism in marriage and religion.
Madam Bah urged parents in her district to stop running after wealthy people to marry their daughters. She said this act usually brings problem among themselves.