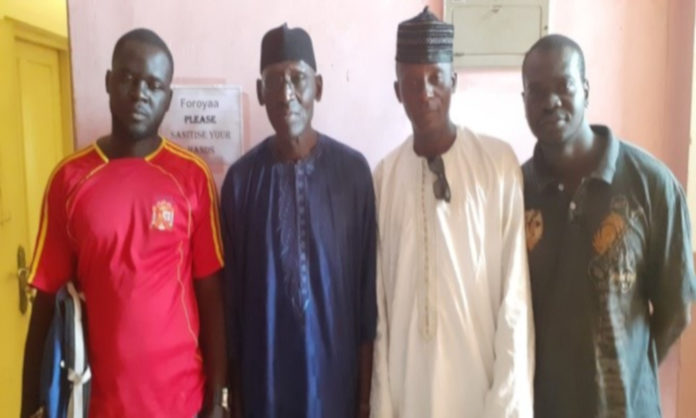 By Momodou Jarju
Gunjur Kuta in Wuli West, Upper River Region, is seeking support to complete its Health Post, which is the biggest self-help initiative in the community providing access to health care to its people.
The health post which started operation in 2016, is one of many self-help initiatives the community has been doing. Three officials from the Gunjur Jecka Youth Association, accompanied by Wuli West lawmaker, Sedia Jatta, walked into Foroyaa to explain the current situation of their project.
The health post is housed in a 180 Meters Square compound fenced through self-help initiative.
One of the officials, Demba Saho who is also the son of the village Alkalo, said the idea of the project came from his elder brother's son, Bubacarr Saho who is residing in Spain.
He said Bubacarr talked to his female friend- a nurse, who offers voluntary services to a village called Sandu. He said Bubacarr told the female nurse that his village is not far from Sandu and they have no health facility which disturbs their women.
Mr. Saho said the female nurse agreed to help and it was then that Bubacarr informed the village Alakalo. Saho said they also went to the regional health director in Basse, Lamin Ceesay to inform him about their project proposal and Mr. Ceesay asked them to write a letter which they did and submitted to him.
He said Mr. Ceesay stamped the letter and took it to Banjul to the ministry of health for approval.
"Mr. Ceesay told us that when we have the medicines, they would provide us with nurses," Saho said.
He said they get assistance from 15 health centers abroad that support them with medicines every month. Saho further said they gave director Ceesay fuel to visit the health center to assess it and Ceesay told them what they needed to put in place which they have done except the solar installation which they are appealing for help.
Already, the community has built an edifice which would serve as the health center. They also drilled a borehole to provide water supply for the facility. Saho pleaded to the Central Government to help provide nurses and a doctor for the facility upon its completion soonest.
He said the major help that the health post needs now is light and health officials to work at the health center. He said there is one nurse at the health center.
Saho, who also resides in Spain said they have an association which has been in existence in Spain for more than 40 years.
"We want them (government) to help us as far as we have medicines from Spain and if we tell our people and the neighbors that we have a new health center, many people would come in their large numbers," he said.
Saho said their association has been very helpful in financing the project since the onset. And the community too contributed money which is about one hundred thousand dalasis.
"The community members take part in the molding of blocks without payment," he said.
Mr. Saho also said Wuli West lawmaker, Sedia Jatta, has contributed forty thousand dalasi to the initiative.
The total amount of money spent for fencing the 180 square meters and the health center edifice is closed to one million dalasis (D820, 000.00). Saho said a lot of money has been spent in this self-help project.
At the moment, Saho said their association in Spain is cash strapped at the moment, and their account has dwindled from 40, 000 euros to 4, 000 euros.
"We have done our preparation and almost all the materials needed at the health center are in place. Our main problem, is power supply," he said.
For help you can contact them through; Mr. Saho on 9542616, 0034642233216 (Whatsapp) or Mr. Danjo on 3535413. Better yet on email, [email protected]