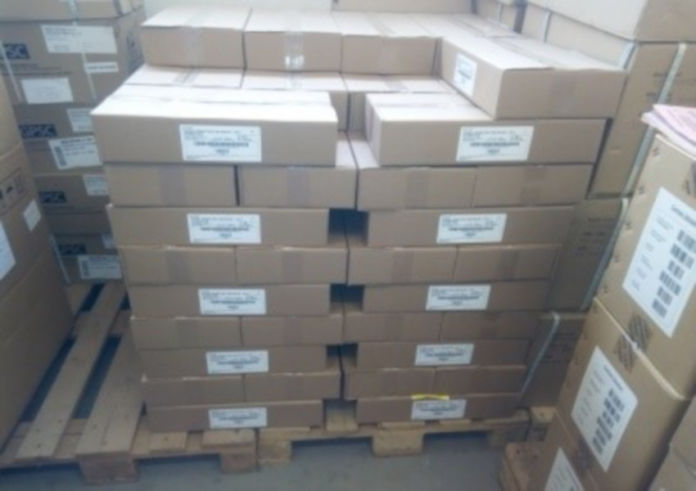 By Ndey Sowe
In their quest to provide access and affordable health care for all Gambians, 'Childfund' International on Tuesday March 17th 2020, donated a 20 foot container of pharmaceuticals and medical supplies to the health sector.
The event which took place at Central Medical Stores in Kotu, saw the handing over of medical items, 500 laboratory coats and masks to the Ministry of Health.
Musu Kuta Komma, the Country Director of 'Childfund' International said the lab. coats will be essential items for health care practitioners during this trying times of the Corona virus outbreak.
''Childfund' the Gambia will continue to do everything within its capacity to support health care delivery in the country," she said; that it is their conviction that access to much needed medical supplies and services is essential in the health care delivery of the nation.
''Our partnership with the Ministry of Health is long standing and our intervention in the health sector was never done in isolation. All our supplies have been given a seal of approval by the Ministry before their shipment. We have been at the forefront of promoting nutrition in communities and central to this is infant formula preparation using high rich but cost effective locally available resources together with supplying vitamin A supplements and de-worming tablets to Hospitals," Musu Kuta Komma said.
Gibril Jarju, the Director of Planning and Information at the Ministry of Health said the donation was a fitting gift not only to the Ministry of but to the Gambian people.
"This donation will go a long way in providing protection to health care providers and the Gambian people," he said; that these essential medical items are those that keep the health system functional.
Jarju said the medical items could not have come at a better time when they were struggling to mobilize additional resources to procure Personal Protective Equipment (PPE) in preparation for any eventuality of the Covid-19 entering the country.
He applauded 'Childfund' International for the gesture and said the medical items will go a long way in strengthening the health system since Government cannot do it alone.
Babanding Sabally, the Director of Pharmaceutical Services thanked 'Childfund' International and its partners for their kind gesture; that in December 2019, 'Childfund' International handed over the same consignment of similar items through MAP International as part of their "Gift-in-Kind" Program which seeks to compliment Government efforts in the crucial sector of Health and Education.