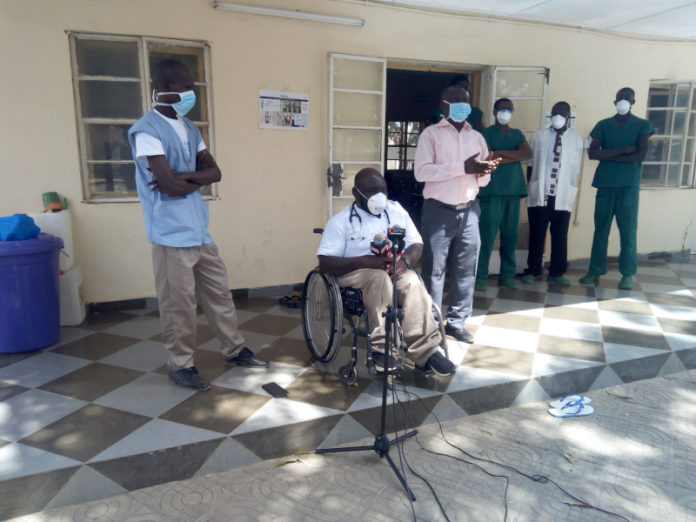 By Nelson Manneh and Ndey Sowe
Another person has yesterday been discharged from hospital following his recovery from the Coronavirus Pandemic.
Dr. Abubacarr Jagne the head of the main treatment centre in Banjul yesterday 1st June 2020 informed the Press that they are now left with three COVID-19 patients at the treatment centre.
"We were having about thirteen (13) COVID-19 patients admitted here, few weeks ago but most of them have recovered and they are discharged and we are now left with three active cases," he said.
He added that there is no patient under intensive care at the centre at the time of speaking to the press.
The Gambia now has only three active cases of the virus.
The country (Gambia) registered her first COVID-19 case on the 17th March 2020 and since then recorded twenty-five confirmed cases of the virus.
Out of the twenty-five confirmed cases, twenty-one have recovered and one died while the other three are still undergoing treatment.
Dr Jagne said out of the twenty-five confirmed cases, twenty-two of them were admitted at the Sanatorium (Main treatment centre) in Banjul, one died and two were admitted at the Medical Research Centre (MRC) in Fajara.
Coronavirus Pandemic began at the Chinese provincial town of Wuhan and it was declared as a global pandemic by the World Health Organization (WHO).
Since its outbreak in the East Central City in late 2019, it has affected over two hundred countries worldwide in which over six million cases were confirmed with over three hundred thousand deaths.
Gambian's neighbouring country, Senegal has registered over three thousand confirmed cases of the virus in which over forty persons have died.