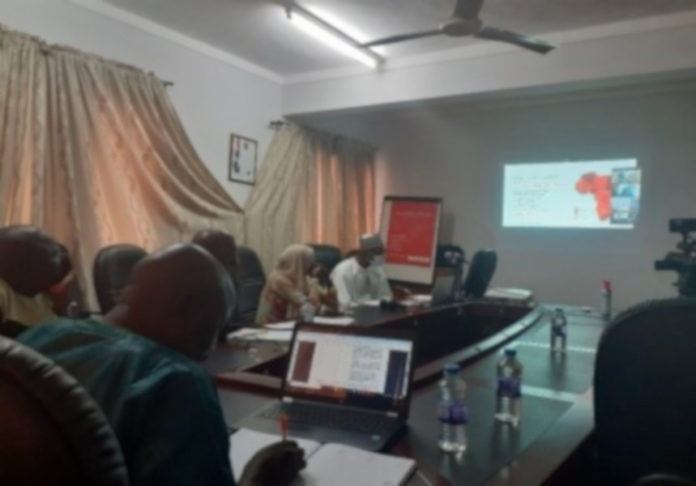 By Momodou Jarju
Actors in the country's creative industry are set to benefit from national funding as an enhancement to their work, Hamat N.K. Bah, the minister of Tourism and Culture disclosed on Wednesday May 27th 2020.
Mr. Bah made this statement during a virtual forum of African Union Ministers responsible for Arts, Culture and Heritage, in their response to the COVID-19 pandemic.
Mr. Bah said the National Fund for Arts and Culture (NAFAC) is set to be operationalized and is meant to support artistic and cultural programs of the country including festivals, publication of books and historic research amongst others.
"It is the youth who are now heavily involved in the creative sector as a conduit for self-employment. Therefore, this sector is critical to the national development paradigm of the National Development Plan 2018-2021," Bah said.
Bah explained that the legal framework for NAFAC is in place in the NCAC Act, 2003, and that funds will be run by a congress comprising Gambian artists, arts administrators and members of the National Assembly Select Committee. He informed the meeting that since the change in Government in 2017, all sectors of the arts, literature, fine arts, festivals, drama, film, dance and photography, have seen a big boost in terms of participation and even investment in terms of printing shops, studios and record labels amongst others.
According to him, the rise in private broadcasting has supported this boost, likewise the legal framework such as the Copyright Act and Regulations, which protect the artistic works of Gambians.
COVID-19 Impact on Sector:
Minister Bah told the meeting that the COVID-19 pandemic has hit the culture and creative industry of The Gambia hard and this is negatively affecting the sector.
"The closing of performances, venues, galleries, studios, museums, including our UNESCO World Heritage Sites and bookshops, meant loss of revenue to the sector. Festivals have been postponed. Artist's events cancelled and artistic mobility banned. This means loss of revenue including foreign exchange and investment in the arts sector such as instruments for hire, studio gadgets and technicians," he stated.
Speaking further, Mr. Bah said through the UNESCO Resiliart Project, Gambia Government mobilized Gambian artists and cultural players and administrators to dialogue on the impact of the pandemic in their work, and to chart a way forward; that in a dialogue via teleconferencing with UNESCO and Gambian officials, a post Covid-19 framework for the arts sector is envisaged. Bah also said Government through the NCAC, has contacted the Gambia Chamber of Commerce and Industry to recommend that they extend their COVID-19 Social Support to artists and cultural players who are adversely affected.
He further said his Ministry has developed a project proposal for a COVID-19 response for the arts and tourism sector, which has been submitted to the relevant authorities.
"This envisages a rescue plan for small businesses in the arts and heritage sector in terms of soft loans and grants," he said; that other post-COVID-19 measures are to strengthen the Copyright royalties mechanism so that their radio stations, hotels and taxis can pay for music and other artistic materials they use; establish an arts training institute to build capacity and entrepreneurship and strengthen various artistic associations such as the Writers Association and Music Union, in order to give Gambian artists autonomy and agency.
"Finally, it is our firm belief that the arts and culture sector will rebound post COVID-19 and this pandemic will afford us the opportunity to put more emphasis on the sector and make it more responsive to our development aspirations. In this regard, we will continue to count on the support of the AU and all friendly nations and people of the Gambia." Bah concluded.
The forum brought together Ministers in charge of Arts, Culture and Heritage from AU-Member States; Pan African Cultural Organisations; Regional Economic Communities; UN Organisations and officials from the AU Commission.
The forum aims to enabled stakeholders discuss urgent actions to support the arts, culture and heritage sector in Africa, in line with the AU Continental Strategy in response to the COVID-19 Pandemic.