By: Kebba AF Touray
Suwaibou Touray, the National Assembly Member for Wuli East has donated medical items to the Sutukoba Community Clinic. The donation is said to be geared towards his contribution in meeting the health care needs of his Constituents.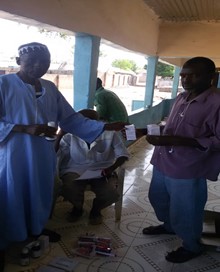 The donated items include gauze bandages 7, cotton wool, gentian violet, dressing ointment, powder and solutions and surgical spirit.
Sulayman Jatta the Assistant In charge of the Clinic expressed gratitude to Touray for the humanitarian gesture. Jatta said the items will go a long way in meeting the health needs of residents.
"Quality health care service delivery will require the needed equipment and drugs. This donation will ensure quality health service delivery to the people. We assure you that the donated items will be put into good use, to serve the purpose for which it was given. The donation has come at the right time and it is a step in the right direction. We want to express gratitude to Suwaibou Touray for the magnanimous gesture, which will contribute greatly to the meeting of our medical care needs,'' some of the residents said.
Commenting on the donation, Suwaibou Touray expressed sadness and grief about the recent wind storm disaster that struck his Constituents earlier last month, during which public structures such as the community health facility and dressing materials were destroyed. He said the donation was in fulfillment of the request made by the people who called on him for such donation, to address their medical needs.
"Since medicine and dressing are the priorities of the health facility, I decided to make a swift contribution though modest, to ensure that operation at the health facility continues," he concludes.