By Louise Jobe & Mustapha Jallow
Semlex, the Belgian Company assigned to make and issue the Gambia's ID Card and Driver's Licence, has been temporarily closed by the Gambia Revenue Authority (GRA) on Monday February 10th 2020, for non-compliance of tax payments.
Semlex was temporarily closed under Section 215 of the Income and VAT Act for non-compliance, according to a warning notice pasted on the doors of the Company's head office in Kanifing.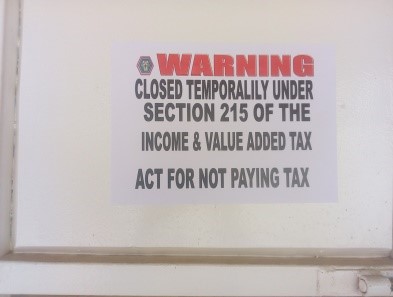 When contacted for comments, a Commissioner from the Department of Immigration in the person of O/C Fadera, expressed surprise that the situation between GRA and Semlex had come to such a level. O/C Fadera who first told this reporter that he was not aware of the closure of Semlex, said by the time he reported to work with his Officers, the information did not dawn to them; but that he saw people who claimed to have come from the GRA, posting stickers on the doors of Semlex; that this was the time they were told that they are closing the Company temporarily until they meet the requirements of Section 215.
This reporter visited the scene to ascertain the facts on the temporal closure of Semlex Company and until the time he left, people appeared in their numbers to apply and collect their ID cards and Driver's licences only to find out that the Company was closed.
Fatou Gaye a teacher from one of the Schools in Niumi said it is not easy for her to travel from her area, to the Kombos; that she obtained permission from her head teacher two weeks ago, just to come and apply for her national ID card; that with the temporal closure of the Company, she doubts if she can get another chance from her head teacher to come back.
Many people who talked to this reporter expressed dismay with the closure of Semlex and opined that the Company should be tax compliant if they want to continue with their business.
One Justice of Peace and Commissioner for Oaths who conducts business in the vicinity of Semlex told this reporter that he goes to work early in the morning every day, from Mondays to Friday; that on this particular day, he arrived early only to find the place locked down; that when he asked, he was told by one of his colleagues that the place was locked down by GRA personnel who claimed that the Company is non-compliant on tax payments.
JP Krubally expressed his disappointment with Semlex and said it was a setback to the Company and the Government and people of the Gambia; that people come from afar just to get their national ID cards and Driver's licence.
Food vendors, who also earned their living from the sales they make within the area, expressed their surprise and disappointment over the temporal closure of the Company.
At a press briefing at the GRA head office on 10th February 2020, Mr Yankuba Darboe, the Commissioner General of the Gambia Revenue Authority (GRA), said negotiations concerning the closure of the biometric national documents producer company, Semlex are currently ongoing.
He remarked, "I don't think this will take long-time because negotiations are on. As we speak to you, I've the permanent secretary interior and his team in my office sitting-down. As we also speak, you see the director of immigration just coming in – they are all on it – people from the same company are coming for us to sit and discus.''
GRA boss added: "People have to be patient with us. These negotiations will not take a long time and I think it would be addressed but as far as we are concerned, this is a responsibility we have to carry out. People, who have to pay their taxes, need to pay it on time for that matter.
"So, this is not about an individual and is not about an institution – everybody who should pay his/her taxes and are working in this country, should pay their taxes. So, it is a matter of principle. Those who have to get the ID card today – well we apologise for them not getting it, but then let them be patient knowing that GRA is here, is their GRA and whatever GRA collects, we send it to the government and that is what government uses to take care of the salaries and the other social developments in the country,'' he told journalists.
According to Darboe, they were looking forward for the company to produce the Special Investment Certificate (SIC), that would allow Semlex to operate without paying their corporate tax and other taxes for a period of five years.
But "as far as we know they have letters sent to us saying that they are working on that. So, if somebody else has a document that exempts them we don't know that document and we don't have that document,'' he explained.
He continued: "As far as we know in this country, it is only the President of the country that can exempt a certain individual or certain businesses from paying taxes; other than that it is only the exact procedure – you have to get the SIC or you get the duty waiver.''