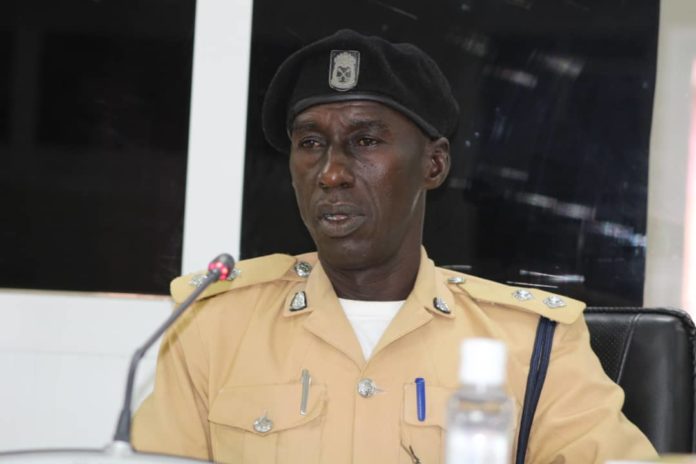 By Nelson Manneh
Long term serving prison warden, Jombo Jallow said some of the inmates were detained based on executive orders of former President Yahya Jammeh.
"We could not disobey the Executive Order," said Jallow, adding some people were brought into Mile 2 without proper procedure.
Jallow began his career as a prison warden in January 1990. Assistant Superintendent Jallow testified before the TRRC on Wednesday, 17th June.
He testified that there were several beatings that took place at Mile 2, adding sometimes the Yahya Jammeh's squadron of torturers alias the 'Junglers' used to torture Mile 2 inmates.
He recounted that one day Lang Tombong Tamba, former army chief of defence staff was picked from the Security Wing, taken to the NIA and tortured seriously
"Nothing could happen in Mile 2 which David Colley was not aware of," Jallow said.
The witness said it was a usual practice that NIA officers will go to Mile 2 and take an inmate to the NIA headquarters for torture.
He said in Mile 2, there are certain prison wardens who were involved in torturing inmates. He said those wardens used to take the inmates behind David Colley's Office and beat them.
"When they (the tortures) take them and bring them back, the inmates will come and tell us that they were beaten by them," he said.
"Ebrima Jammeh, Muhammed Jabbie and Malang Tamba were the lead tortures. Ebrima Jammeh is their commander, he is the one who used to collect the inmates, beat them and bring them back," he said.
He said the inmates used to call Ebrima Jammeh as the Chief Torturer.
"The chief torturers were not following the Prisons Act because there is no section in the Act that warrants the prison wardens to beat inmates," he said.
The witness alleged that David Colley, the then Director-General was aware of all the beatings that were taking place at Mile 2 because it was done behind his office.
He testified that at Mile 2, there were groups of wardens that were closed to the DG.
"The DG has many orderlies because he is very aggressive and used to shout at them. Whenever he wants to change his orderlies he just makes a request," he said.
He said David Colley has absolute authority in Mile 2 – anything he said used to happen and anything he does nobody will enquire. He added that David used to exercise powers of dismissal, demotion of wardens and punishing them.
He said the prison service has many operations commanders including Commissioner Ousainou Colley, Commissioner Faal, Commissioner Ali and current Commissioner, Lamin Sowe alias Jumbo.
He said he was not happy with the conditions in which detainees were held but they couldn't do much because service is based on orders. Jallow said inmates were locked in the cells for 22 hours a day. He said sometimes if the sun is too hot, they open the Cells.
Jombo Jallow, told the TRRC when he joined the Prisons Service, he was posted at the Jeshwang Prison.
However, in 2006, he was moved to the Taskforce at Serrekunda Police Station, under a Taskforce headed by Landing Bojang and the purpose of the Taskforce was to reduce the crime rate in Serrekunda.
The witness said while he was there he used to see people bleed and he was even afraid because he was not used to those types of injuries. He said he was later appointed as the ground commander and they usually go out for patrol and arrest suspected bandits. He said the taskforce was effective and it reduced the crime rate within Serrekunda.
"Prison, is to correct inmates, handle them with care so that if they are released, they would be of benefit to society by helping them to continue with their skills and those who don't have any skills are trained on some thing," he said.
He said some people are very aggressive and for that matter, they used to take some of the inmates to the Security Wing but this, he said, wouldn't deprived them of getting what they were supposed to get under remand.
At this juncture, Haddy Dandeh Jabbie, Deputy Lead Counsel of the Commission told him that there is evidence before the Commission that inmates were not allowed food cooked from home despite the fact that it was a requirement for Remand Prisoners to enjoy that right. The witness in response confirmed that the statement is true. He added that some of the inmates were denied food and visitation.
The witness testified that the Janjangbureh prison has no security wing. The witness said at the time he was in Janjangbureh, the detainees who were taken there were all packed in one big cell.
"'Bamba Dinka' is a separate cell and it is located in Jeshwang," the witness told the commissioners.
The witness said 'Bamba Dinka' has subcells inside and the windows have irons and behind it has a whole.
He said the sleeping place in 'Bamba Dinka' has slabs and inmates are only given a blanket, adding the cells were not big.
He said at the confinement wing in Mile 2, cells 1, 2 and 3 are small cells while 4, 5 and 6 are big cells.
He said the food given to the inmates is very poor and some inmates eat the food because of hunger and some inmates get sick because of the food they eat.
"Beriberi is a kind of sickness that was disturbing inmates in Mile 2 because of the Pap they eat," he said.
The witness said he was also detained in Mile 2 and dismissed before he was reinstated.