By Momodou Jarju
The National Assembly Select Committee on Regional Government and lands, Ombudsman and ICE has on Thursday warned the Basse Area Council to desist from misrepresentation of facts.
The aforementioned council, while preparing a report, used the letter head of the National Audit Office when the aforesaid office did not audit the report.
Bakary Trawally, the subject matter specialist of the committee, said clearly what happened was unfortunate. He argued that the only report that should be submitted to the national assembly should be the audited financial statement.
Trawally, who is also the director of area council under the National Audit Office, said the reports are drafts until and unless they are audited and certified by the National Audit Office.
"And the cover letter, using our logo is a serious misrepresentation because if anybody sees this report your assumption will be, this is coming from the National Audit Office," he said.
"It is the audited financial statement that should come with the audited management letter with the auditor's opinion sent to the national assembly," he added.
He said he knew about this act recently, but he was quick to add that the Basse Area Council will not make a similar mistake again. However, Trawally said he appreciates the CEO's plea and assured him of their office's support.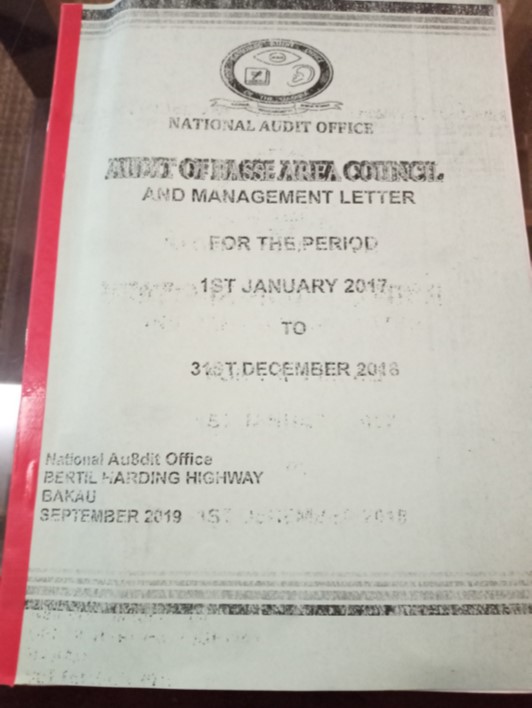 Vice chair of the committee, Yakumba Jaiteh warned the council not to repeat the claimed mistake again.
Hon. Sunkary Badjie, Foni Brefet deputy and member of the committee, quizzed whether the Chief Executive Officer (CEO) knew what they were doing was wrong, he responded in the negative. He said he didn't know what he was doing was wrong.
"I was trying to do my best to satisfy the request of this august gathering but I never thought that point in time that it was wrong and I would apologize for the misrepresentation of any information and I want to be corrected and am ready to learn from my mistake and work better to do better next time," he accepted.
However, Trawally said he assumed the mantle of leadership of the council in July 2019 and he was confronted with challenges his team is working to solve.
"We thought that it was a right thing for us to do, but not to do it for any malpractice or whatever, because it also includes audit queries and all other things. So, when some of the answers, that was why we just put it there. But it was not a deliberate action or a matter of choice to satisfy us," he asserted.
Meanwhile, the committee could not continue due to lack of documentation of the financial statements for the periods under review and thus, rejected the reports of the council.