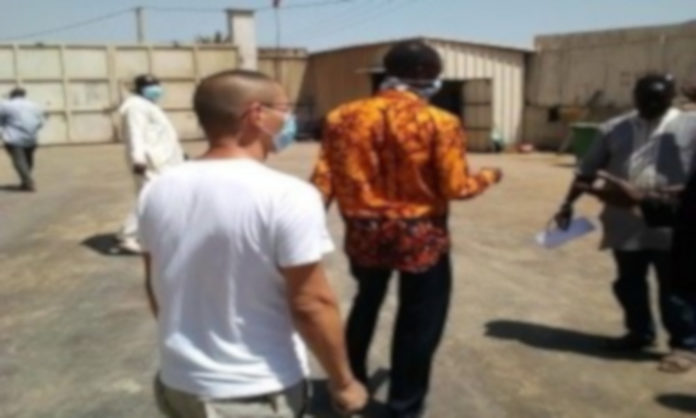 By Hatab Nyang
The Parliamentary Oversight Committee on the Monitoring and the implementation of the State of Emergency during the global Covid-19 pandemic visited Sanyang, Gunjur and Kartong beaches and Ghana town on Monday May 4th 2020.
As part of their mandate, the Select Committee took rounds of the main complexes of the various fishing centers and visited fishmeal factories to monitor their adherence to the State of Emergency regulations and WHO guidelines.
At the Gunjur beach, the Committee met the Fisheries Officer for the area Ebrima Jabang who took them on a conducted tour of the beach and inside Golden Lead Fishmeal Factory.
Different questions were put to Mr. Jabang by the Parliamentarians regarding adherence of the people to WHO guidelines and social distancing measures by those who come to the beach. The Committee observed that less than one percent of the people who come to the beach wore face masks; that even the Fisheries Official himself did not wear a face mask.
According to Jabang, since the presidential declaration on the state of emergency, they have ensured that boats at Gunjur beach go out fishing based on a timetable to limit crowding.
At Golden Lead Fishmeal Factory, the NAM for Banjul North Ousman Sillah put it to the authorities of the Company that they are operating at full capacity contrary to what the Fisheries Minister told them when he came to the National Assembly, to which they agreed; that they should reduce their capacity to 50% according to what the Minister told them at the National Assembly.
The Member for Banjul North and Chairperson of the Committee observed that no social distancing was observed or face masks worn and provided as a protective measure by the Company's authorities, making anyone who works or visits the factory vulnerable to Covid-19. Sillah warned the authorities of Golden Lead officials to scale down their work within this period of the pandemic or they will risk closure.
On his opinion about the NA members' visit and the adherence of the people to the preventive measures against the global pandemic, Dr. Ahmadou Scattred Janneh said one can see the large crowds that the place attracts and the quantity of fish that is exploited even though the factory claims to scale down operations.
Dr. Janneh said these are people who should not be trusted for their word because of the interest they have, in gaining wealth at the expense of the citizenry. He urged that now that the parliamentarians have seen for themselves, something needs to be done to remedy the situation.