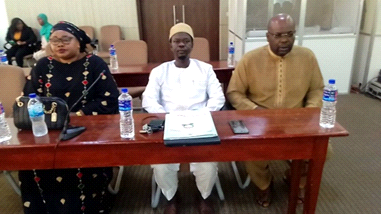 By: Kebba AF Touray
The Banjul City Council (BCC) yesterday 1st of February 2023, appeared before the Finance and Public Accounts Committee (FPAC) for the presentation of their Activity Report and Financial Statements for the fiscal years 2019 and 2020 respectively.
Momodou Camara, BCC's Finance Director reported to the Committee that in 2019, Council raised the sum of 76.8 million dalasi while total expenditure stood at 81.4 million Dalasi, leaving the Council with a deficit of 4.5 million Dalasi.
The compositions of the said revenue he said is admin. revenue, trade license, partial cost recovery (waste management), markets, rates and taxes, car park fees, grants and subventions, which gave the Council a cumulative revenue total of D76.8 million. He further reported that in the 2020 fiscal year, total revenue of Council was D65.8 million and the composition that brought the Council the said total revenue was admin. revenue of D4.3 million, trade licenses of D35.4 million, partial cost recovery (on waste management) of D840, 0300, markets of D7.6 million, rates and taxes of D6.6 million, car park fees of D3.7 million, grants and subventions of D7.3 million.
"This gave us a total revenue of D65.8 million. The total in the year of 2020 was D61.5 million, giving us a surplus of D4.4 million," he reported.
Mustapha Batchilly, the Chief Executive Officer (CEO) at BCC, told the Committee that they embarked on activities such as excavation of the main drainage outlets in the capital city, which was carried out before the rainy season.
"The purpose of this work is to clear blockages within the drainage system to allow easy and free flow of the flood waters within the city during the rainy season," he said. He stated that some of the major projects that the Council also embarked on were the replacement of street lighting systems as targeted areas in the city, construction of youth for excellence and Council's main office, construction of inner city roads in the city, transformation of Crab Island Upper Basic School into a Skills Training Centre among others.
"It is our hope and belief that with these projects on track coupled with the interest of this new government to develop Banjul, the capital city is entering a new era of positive development and growth," he told the Committee.
Bakary Trawally, Director of Audit Municipality and Area Councils, stated that they have audited the Activity Reports and Financial Statements of the BCC under the period under review, in accordance with International Standards for Supreme Audit Institutions (ISSAIs). He said they have among other issues noted that there were no ledgers for the individual accounts for the preparation of Financial Statements and no disclosure of suppression of revenue at D195, 120.00 in 2019.
The BCC has been re-scheduled to reappear before FPAC today, for the consideration of their activity reports and financial statements.