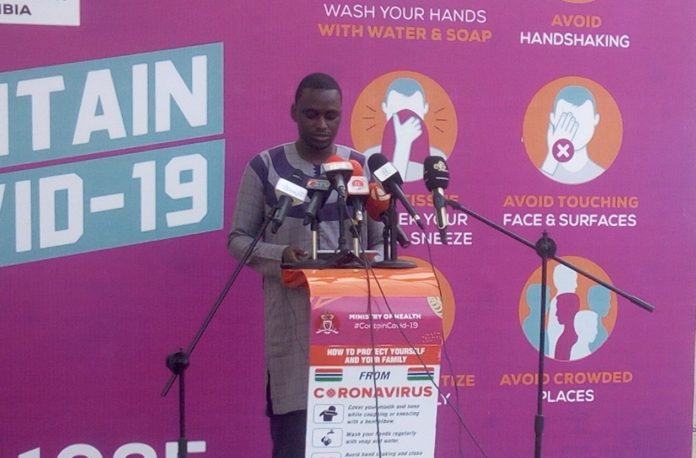 By Nelson Manneh
The Ministry of Health has urged the Gambia Ports Authority and its Ferry Services to continue observing the State of Public Emergency Regulations on Public Transportation which emphasizes a reduction in the capacity of ferries in order to avoid congestion of both ferries and terminals within this time of the global pandemic.
Dr. Mustapha Bittaye the Director of Health Services at the Ministry of Health said this on Friday 24th April 2020, during the daily press briefing of the Covid-19 Task Force at the Ministry of Health in Banjul. Dr. Bittaye, who is a member of the Covid-19 Task Force, said private and commercial vehicle owners as well as motorcyclists should adhere to the regulations; that the Ministry also appeals to parents to support and guide their children at home.
"We would therefore appeal to household heads, parents and caregivers to support and guide children at home and in the neighborhoods. Let them be active in the implementation of the State of Public Emergency Regulations including social distancing in their various households," he said.
Regarding their next steps, Dr. Bittaye said the Ministry of Health will work with municipalities on community engagement and the fumigation of the homes of newly discharged persons who have recovered from COVID-19; that they will also intensify COVID-19 sensitization campaigns in Busumbala and Bundung.
He said they will continue with daily follow-ups of low-risk contacts and those discharged from quarantine and encourage public reporting and self-reporting of suspected cases through the toll-free line (1025).
If readers can recall, the Government of the Gambia came up with regulations to restrict both commercial and private vehicles including ferries, to carry half the normal number of people they are supposed to carry, due to the Coronavirus pandemic; that in order to prevent the spread of the pandemic, World Health Organization recommended people to wash their hands with clean water and soap and cover the mouth when coughing among others.