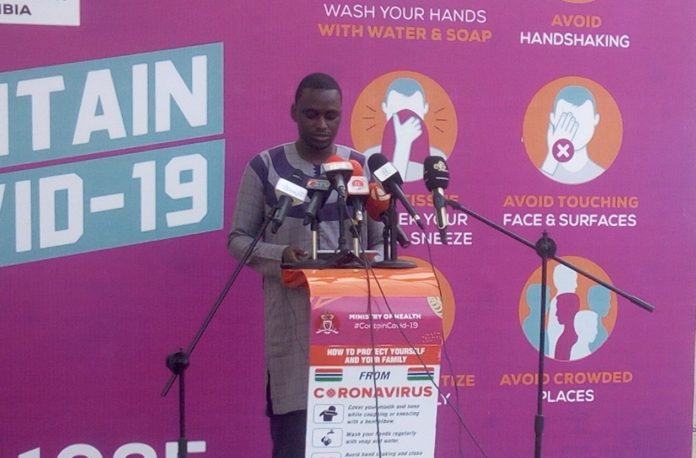 By Ndey Sowe
The Ministry of Health has disclosed that they will support and guide the visually impaired people on social distancing during this period of the global Coronavirus pandemic.
This disclosure was made by Dr. Mustapha Bittaye, Acting Director of Health Services at the Ministry of Health on Wednesday April 15th during a question and answer session of the daily press briefing of the current situation of the Coronavirus in the Gambia by the Covid-19 Task Force.
"We will see a way to get in touch with them and to guide them on this," Dr. Bittaye said, adding that they can also call on the Covid-19 Task Force when they have issues. Dr. Bittaye said they will meet with the visually impaired and explain the importance of social distancing and assist them in the fight against the COVID-19.
He urged those who escort the visually impaired to ensure that they maintain social distancing; that they should try and observe this anywhere they are. He urged the visually impaired to minimize their outings or stay at home and avoid crowded places; that it is our collective responsibility to make sure that everyone is safe by observing social distancing as a very important preventative measure from health officials through WHO.
Dr. Bittaye further explained that the National Assembly and Government are looking into means of assisting the most vulnerable during this state of emergency period; that measures will be put in place for those people.
Regarding their next step, Dr. Bittaye said they will collaborate with partners to review and implement national quarantine SOPs as a matter of urgency.
"We will strengthen community surveillance in all regions with undesignated border areas especially in some villages in URR that borders with Senegal," he assured; that the Health Ministry encourages self-reporting of suspected cases through the toll-free line (1025).
While commending Gambians for their patience and understanding during this trying moment, Dr. Bittaye appealed to market vendors, shop keepers, restaurant and bar owners, saloon and barber shops, private and commercial vehicle owners as well as motorcyclists, to adhere to the State for Public Emergency Regulations.