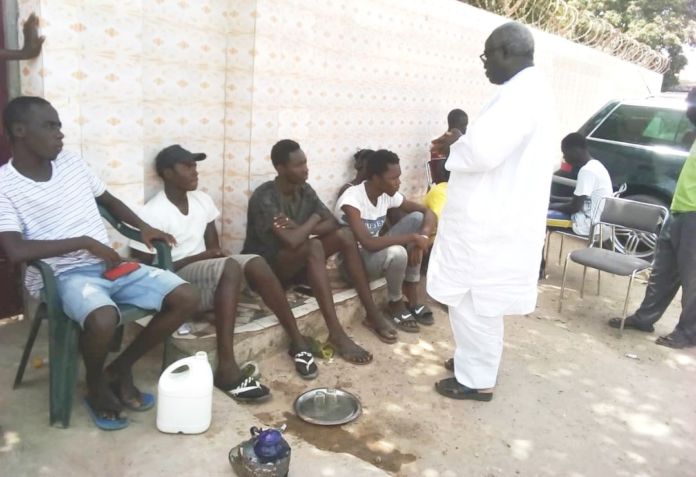 By Kebba Secka
Halifa Sallah, the National Assembly member for Serekunda Constituency on Saturday March 21st 2020, sensitized youth groups within London Corner, on the effects of the coroner virus.
The youths who were found in their respective 'vous' said they have been hearing about the much talked about coroner virus or Covid-19 disease, but do not know it's effects.
Sallah began by asking them to share with him everything they heard or know about the virus and the preventive measures that should be taken against it. After their brief explanations, Halifa told them the history of the disease and where it emanated from and its impact and how to avoid it.
The rapid spread of the disease according to Sallah, led President Adama Barrow to declare a ban on all public gatherings including 'vous', on the 17 of March 2020; that their form of gathering is one of the most feared social contact in transmitting the virus because of its contagious nature. He sensitized them on how the disease impacts on people's wellbeing leading to the deaths in many countries around the world. He pleaded with them to adjourn their traditional form of gathering and brewing China green tea until the menace of the virus is defeated.
On how the disease becomes contagious, Sallah explained: "According to world health organization, the virus is contagious such that social contact, frequent hand washing and a minimum of one metre social distancing, are among the best forms of the precautionary measures."
He reminded the London Corner youth of their value in joining Government to fight against the spread of the virus.
Halifa's long period of sensitization with the youth, saw them demonstrate keen interest in the discussion and assured him that the information gathered from him will go a long way in assisting them avoid the 'vous' and to adhere to the strict precautionary measures of the WHO.