By Hatab Nyang/Louise Jobe
Since the advent of the Corona Virus and the declaration by the President to suspend all public gatherings including Schools across the country, the Gunjur Fish Landing Site continues to be busy as a beehive, with lots of people gathering on the beach to wait for boats with catches, without any visible protective measures especially at the Golden Lead Fishmeal Factory's area.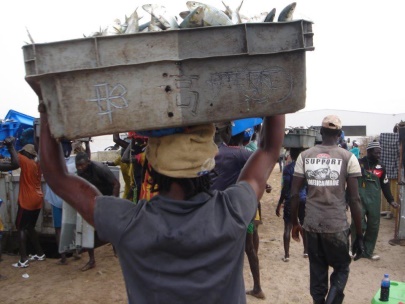 According to these two reporters who were at the beach to investigate and find out from people regarding this deadly virus, many said they are fearful of their lives because most of the big boats that provide fish to the factory come from Senegal and return quite often to visit their families by using the sea. They complain that these people mingle with everyone directly particularly fish mongers at the site, without any protective gear which can stop or minimize the spread of the virus; that hundreds of youth work at the site on part-time, by carrying fish from the boats to the factory without anything to protect themselves or cover their mouths and noses.
According to someone who works at the factory, he is fearful of going to work because they are not protected at the factory.
''We are not given any sanitizer or soap to use,'' he said; that he is always afraid to have contact with his family and neighbors because he mingles a lot with Senegalese fishermen and street boys who carry fish from the boats to the factory.
As well hundreds of people who come to find fish for consumption also gather at the beach without taking any protective measures against the spread of the disease.