By Lamin B. Darboe, Information Officer, MoBSE
The Ministry of Basic and Secondary Education (MoBSE), has announced the resumption of classes for Grade 9 students while classes for Grade 12 students will be announced later.
Thus all other categories of classes will remain closed until further notice.
This announcement was made by MoBSE's Minister Claudiana A. Cole at a press briefing in her office in Banjul on Friday June 19th 2020. The development came following the closure of all Schools in the country by her Ministry after a presidential proclamation to close all Schools due to the global Covid-19 pandemic.
According to Minister Cole, the pandemic has brought lots of trauma and uncertainty to everyone while emphasizing that it has affected every sector of society where education has not left been out.
"The closure has affected about 674,300 students in conventional and recognized Madrasas from early childhood education to Senior Secondary Schools. Thus resulting to an estimated loss of 265 instructional School contact hours within 87 days of closure," Minister Cole explained.
Mrs. Cole re-echoed that the closure seriously threatens the achievement of the annual target of 880 School contact hours.
"Two weeks ago, Government relaxed the State of Emergency restrictions in order to open and extend business operations and reopen Schools as well," she said; that it was Government decision after consultation between her Ministry and other stakeholders was reached to map a way forward to re-open Schools safely; that the outcome of the consultative meeting indicated the need for Schools to re-open to help the education sector and students in the country in general.
According to Mrs. Cole, the re-opening of classes for Grade 9 is in response to the concerns expressed by parents, students and teachers as to when Schools can resume normal classes.
"In keeping with the WHO health measures and the Ministry of Health guidelines, my ministry will be closely working with our Regional Education Directorates to ensure compliance on the social and physical distancing and availability of Covid-19 PPEs," Minister Cole assured the Gambian public.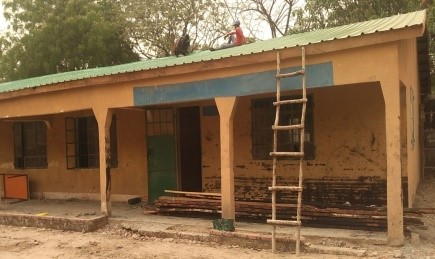 Meanwhile, top officials at the Ministry on Thursday visited MRC-Holland Foundation's ongoing Covid-19 renovation and construction of project sites in Regions One and Two.
The visiting team led by the Minister of MoBSE Claudiana A. Cole and senior officials of the Ministry, is to monitor and prepare the ground for the reopening of Grade 9 classes slated for Wednesday, and the subsequent reopening of all Schools through-out the country.
According to Minister Cole, the ongoing visit to renovation and construction sites of classroom blocks undertaken by 'MRC-Holland Foundation' is to assess the state of the preparedness for the resumption of Schools especially for Grade 9 students; that the visit also gives the opportunity for officials to see for themselves, ongoing renovation and construction works at the sites.
This development came barely three months after closure of Schools as a result of the Covid-19 pandemic which Gambia is not an exception.
Minister Cole during the visit discusses with School authorities on the sitting arrangement for Grade 9 students. To this she said each classroom needs to accommodate twenty five students.
Henriette Braumer-Sonko, project manager for the MRC-Holland Foundation's Gambia office, said her foundation is undertaking the exercise due to Covid-19 pandemic.
"I deemed it necessary to quickly intervene by renovating thirty five Schools before the reopening of all Schools. The amount for the renovation exercise is pegged at D40 million from Lower Basic to Senior Secondary Schools within the six educational regions of the country.
Minister Cole and team visited, Tanjeh and Batokunku Lower Basic Schools, Sanyang Lower and Upper Basic Schools, Gunjur Lower Basic School, Bottrop Senior Secondary and Upper Basic Schools, Busumbala-Farato Lower Basic School, Busumbala Lower Basic School, Sinchu Baliya Lower Basic School and Latri-kunda Upper and Lower Basic Schools.