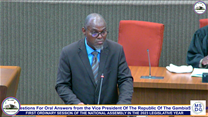 By: Kebba AF Touray
The Vice President of the Gambia, Muhammad BS Jallow, has told the assembly that the government will resubmit the draft constitution to the National Assembly. He reiterated that government is committed to promulgating a new constitution and that effort is ongoing in this regard.
"In terms of the constitution, the government remains committed to the process and is working towards the revision of the draft constitution with the aim of reaching consensus. Thereafter, government will resubmit it to the national assembly," Vice President told the Assembly.
He said this on Wednesday 29th March 2023, while responding to questions put to him by the members of the National Assembly.
He said this while responding to the question put to him by the Member for Niani, Hon. Omar Jobe, who asked the Minister to update the Assembly on the commitment of the government in implementing the Security Sector Reform, TRRC recommendation and promulgating a new constitution.
Vice President responded that the Gambia Government is committed in implementing the Security Sector Reform (SSR), TRRC recommendation and the Promulgating a new constitution.
He said that under the SSR, there is establishment of national security and appointment of national security adviser, to coordinate all the activities of security institutions and to lead the SSR process.
He said that government also has developed new security architecture such as national security policy, national security strategy, a security reform strategy, a security sector reform strategy, a national defense policy, a legal coordination framework among others.
The Member for Banjul North, Momodou L Bah, asked the Vice President to inform the assembly of the number of affected families supported during last year's flashfloods, the type of relief packages given and whether the government is still supporting them
Vice President reported that the government of the Gambia supported 1544 households, with a total population of 12,121 inhabitants and each household was provided with one bag of 50 kilogram bag of rice, 20 litre container of oil and 50 kilogrammes of sugar.
He said that the World Food Program provided support in the form of cash transfer of D2350 per month for three months (September to October) for 5341 households which have a total population of 42,728 inhabitants. Total cash transfer amounted to D3,7650,050.
The Gambia Red Cross Society also provided support in the form of cash transfer amounting to D26,449,275 to over 1000 households with a total population of 11,0416 inhabitants.
He said "The supports were provided immediately after the occurrence of the disaster and continued for three months following the disaster".