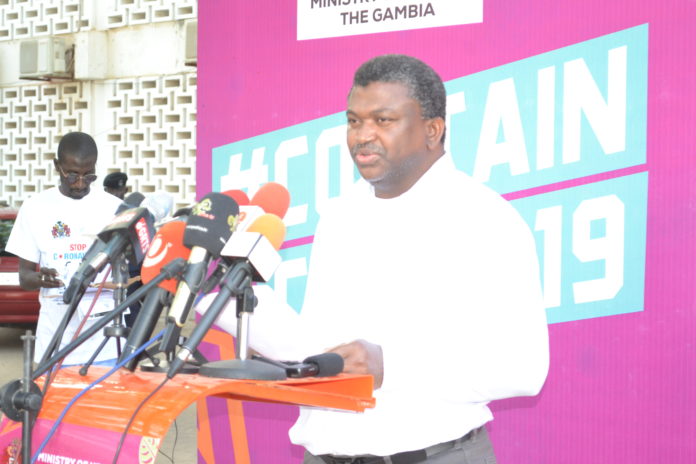 By Ndey Sowe
The Gambia on Sunday, 19th April 2020 confirmed its 10th Coronavirus Case (COVID-19) in the country.
Since the pandemic, the Gambia reported 10 cases of the virus of which two of the patients recovered and one death and 7 active cases reported.
The new confirmed case is a hitherto probable case whose first repeat test result was negative and there is no probable case.
"Currently, the country has 95 persons under quarantine, 7 active cases and no probable case", the health minster revealed.
Dr. Ahmadou Lamin Samateh, the Minster of Health has confirmed that out of the 23 laboratory results received, one returned positive and the remaining 22 results returned negative.
"Out of these, 6 are results of repeat tests on the 6 existing cases, they will be re-sampled in 1-3 days to ascertain recovery status", he said, adding that the remaining 16 are results of new tests conducted.
He explained that 2 people have been discharged from quarantined after testing negative upon completion of their mandatory quarantine period.
He said 21 additional people are taken into quarantine, 19 of whom were close contacts of 2 of the confirmed cases, the other 2 (1 from Senegal and the other from Guinea Bissau) travelled into the country by land.
Additionally, he said a total of 332 tests were conducted and 10 were positive, 256 people completed quarantine, 302 contacts traced and 310 people completed follow-ups.
"We will continue to emphasize the need for everyone to strictly follow the government's guidelines and also the need to stay at home to protect ourselves, our loved ones and save lives", Mister Samateh urged.
The Minister of Health advises the pubic to remain vigilant and to call their toll free line 1025 for advice or sharing of information.
"We all need to work together in this endeavour", he said.