By Mustapha Jallow
Ansumana Yabou, a senior civic education officer at the National Council for Civic Education (NCCE), has urged the community of Tabanani in Kiang Central and Bajana in Kiang West Districts respectively, to avoid insulting Political party leaders.
Mr. Yabou made these statements during the NCCE's ongoing campaign on civic dialogue. The event which was held on the 10th of March 2020, aims to enhance understanding of democratic governance, rule of law, peace-building and as well as promoting tolerance in the country.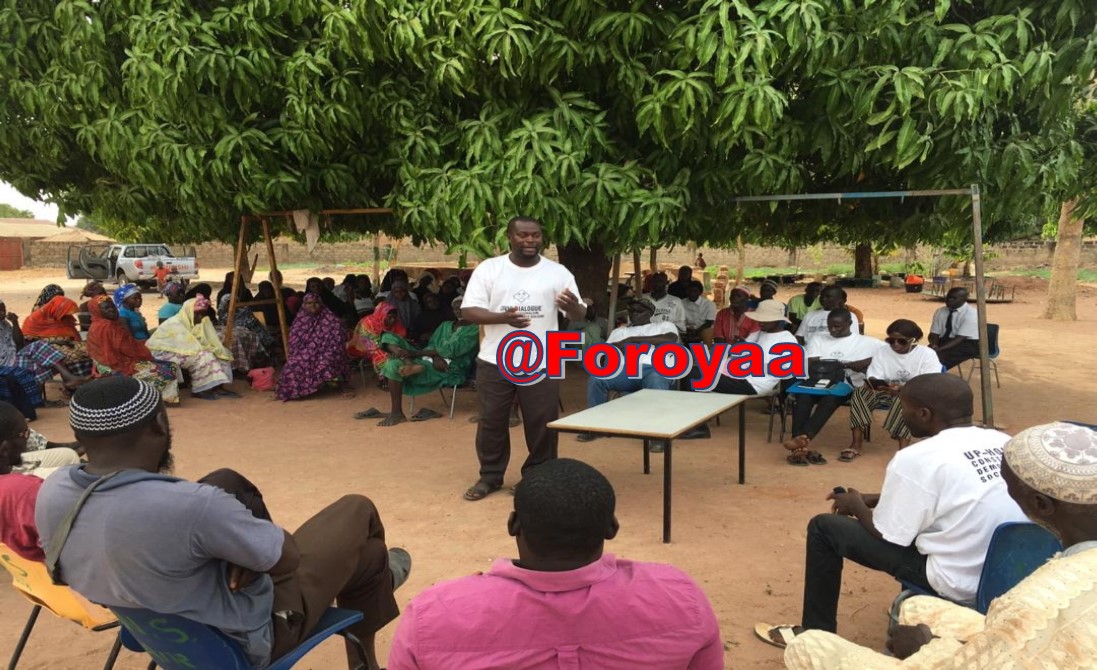 The increasing of "insults" at which political opponents lob at each other on social media according to Yabou, is dividing people especially those in rural communities.
"Politics is not about heaping insults on party leaders or your opponent. It is not about fights or tribal sentiments but it is about focusing on ideas and how to develop the country. It is about engaging politicians on their governance system," he told the local communities.
According to Yabou, tribal sentiment in politics is on the increase and gaining momentum; that many people insult other tribes and he advised them to desist from such behaviors because it is not democratic.
"We want peace and stability in the country but we cannot sustain this peace if Gambians continue to insult each other," he said.
He said the outreach is to sensitize citizens for them to understand that democracy is not about attacking one's opponents; that as everyone may have their differences in political opinion, the most important thing is that 'we are all Gambians'.
"Love and put your country first before party and their leaders. Let us develop our country and respect our leaders," he advised. He further asked them to refrain from abusive words on their smart-phones, especially in group forums and continued that discrimination in religion, life, groups and party politics is not in any law in the country.
For his part, Yusupha Bojang the NCCE's Program Manager said the engagements aims to lessen the current political tension which is marred by misconceptions and misrepresentations of democracy; that this results to disregarding the Rule of Law, slander, provocation and antagonism which has the potential to cause chaos in any country, if not addressed head-on.
Bojang said such sensitizations will greatly enhance citizens' understanding and appreciation of the Constitution as the supreme Law of the country, as well as improve understanding of democratic governance and embrace peace building initiatives as enshrined in the National Development Plan.
Ansumana Ceesay, a civic educator of the NCCE who also talked about the constitution shared the same views. He further urged people to retrain themselves from tribalism which can destroy the livelihood of people in their own communities.
Sutay Sanneh, Pateh Jallow, Jasong Sanyang and Junkung K. Saidy who are all residents of these two communities, expressed similar sentiments.
This current outreach has covered twenty-four communities in the Central and Lower River Regions and the North Bank Region.