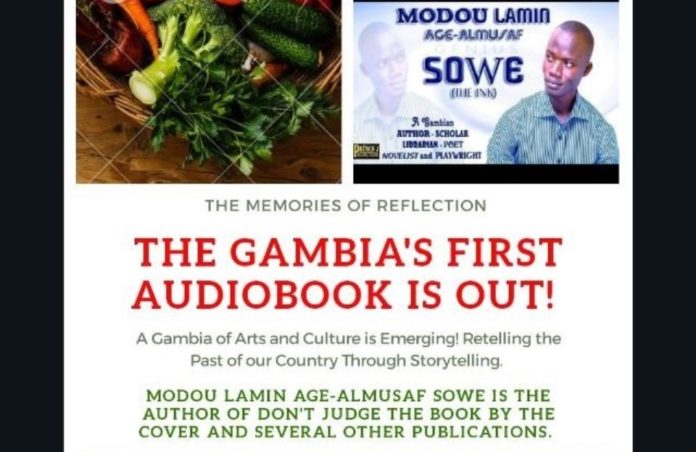 By Momodou Jarju
Emerging West African writer and scholar, Modou Lamin Age-Almusaf Sowe, has produced an audiobook entitled The Memories of Reflection.
The audiobook is the first of its kind heard of in the country yet. The Memories of Reflection was approved in 2014 by the Ministry of Basic and Secondary Education of The Gambia (MoBSE) to be used in junior schools as a supplementary reading material.
Mr. Sowe, who is the founder of the Young Writers Association of The Gambia (YWAG), said he was inspired to produce the audiobook because he noticed that Gambians hardly read.
"And in the changing times, people hardly read and find more comfort in listening to audiobooks in their cars or offices. I'm an Information Literate and my work as librarian has taught me how to manage and organise information in this age," he said.
The award winning writer said Gambians find it difficult to even buy newspapers for just D15 and read. Mr. Sowe, popularly known as ML, said he conducted research and realised that from post-independence to now, no single Gambian author has ever produced an audiobook, thus, he decided to change the narrative.
"I decided to make one for myself. It's hard to be made and required a lot of research, resources, and time, but it's worth the efforts because at least people will be able to listen to my book in just 15 minutes," he said.
The audiobook according to ML, poet, playwright and novelist, can be purchased at Timbooktoo Bookshop in Fajara for only D100.
"I'll soon be available there. Also people listen to it for free and be able to download it on YouTube," he said.
ABOUT THE BOOK
A noble lady, Fatoumata, whose boyfriend, Musa, rejected her pregnancy, throws her baby Isatou into the river. Isatou is adopted and educated by an old woman, baa-Kaddy, who needed a child. Her husband died many years ago.
Despite the care Isatou has under Baa-Kaddy, she abandons her for her lover, and never bothers to pay her a visit even for a single day. Sadly, Isatou falls in love and gets married to a rich young entrepreneur called Famara, not knowing that he is her biological brother.
It deals with drug trafficking, corruption, morality, family prestige and pride, love, patriotism, teenage pregnancy and materialism. Printed and published by Unique Graphics, Kanifing, The Gambia.