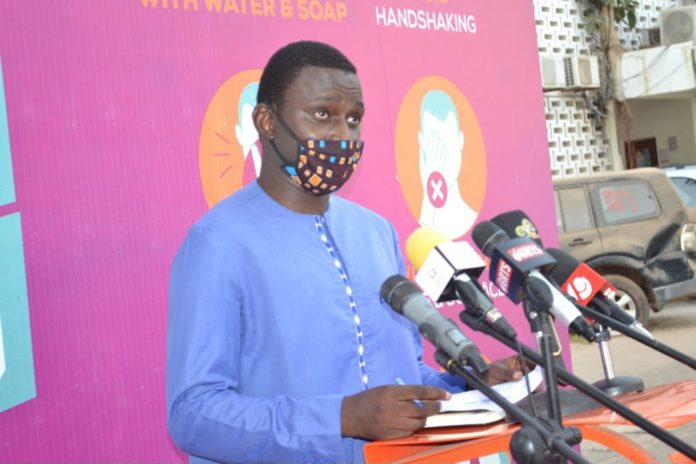 By Nelson Manneh
A 58-year-old woman was recently confirmed positive of the Coronavirus following her return from Senegal.
The woman, together with her husband, was on the 18th May 2020 intercepted at the Giboro border entry point coming into The Gambia. The test result of her travelling companion was negative while hers turn out positive.
The newly confirmed COVID-19 case is a female Gambian and she was under quarantine for some days.
The Gambia currently has a total of twenty-five confirmed cases of COVID 19 of whom fourteen recovered, one died and ten are still active cases. The Gambia has also one probable case. Currently, The Gambia has One hundred and nine (109) persons under quarantine.
Dr. Mustapha Bittaye, the Director of Health Services at the Ministry of Health said out of the one hundred and twenty-four laboratory test results received, all but one returned negative for COVID-19.
Bittaye said a new person has been taken to quarantine. He explained that the newly quarantined person is a sailor who has been criss-crossing several countries in the sub-region. He was intercepted by personnel of the Gambia Navy.
Globally, Bittaye said since 31st December 2019 and as of 21st May 2020, a total of five million one hundred and eighty-eight thousand seven hundred and five cases of COVID-19 have been recorded.
"Of these three hundred and thirty-four thousand and fifty-seven deaths were registered and two million seventy-eight thousand four hundred and eighty-seven recovered from the diseases," he said.
He said Senegal recorded two thousand and eight hundred and twelve confirmed cases, one thousand two hundred and fifty-one recoveries and thirty-two deaths.
Currently, Dr. Bittaye said the country has one hundred and nine people on quarantine. He added that the Gambia has conducted a total of one thousand six hundred and forty tests.
He said, so far in The Gambia since the beginning of the outbreak, four hundred and thirty-one people completed quarantine, seven hundred and eighty-nine contacts traced and three hundred and ten people completed follow-ups.