By Mustapha Jallow
The Gambia's Inspector General of Police (IGP), Alhaji Mamour Jobe, was laid to rest on Sunday at Sinchu-Alagie cemetery at 3pm.
IGP Jobe died at the Medicare Clinic on Saturday afternoon after a brief illness. His corpse was later brought to Sinchu Alagie central mosque that same day in evening by a Covid-19 ambulance with heavily escort of Police Anti-Crime Unit. The body was kept at the mosque until Sunday for burial.
Senior government officials, security heads, other senior and junior law enforcement officers and civilians attended the burial to pay their rest and offer prayers to their fallen leader. Jobe's corpse was given a tight security escort by paramilitary and Anti-Crime Unit officers, civilians and officials who walked the corpse to the cemetery.
Security chiefs, from the National Intelligence Agency (NIA), Drug Law Enforcement Agency, Immigration Department, Prisons Department and Fire Rescue Department, said IGP Jobe's selfless leadership, dedication and smile will be missed by all who knew him. Hundreds of mourners came from all over the country to also pay their condolences and respects to IG Jobe, who left behind three wives and children.
The Vice President and other ministers, senior judicial officials, leaders of the Supreme Islamic Council and imams were also seen at the mosque and at the deceased home to pay their respects and offer prayers to Jobe's family.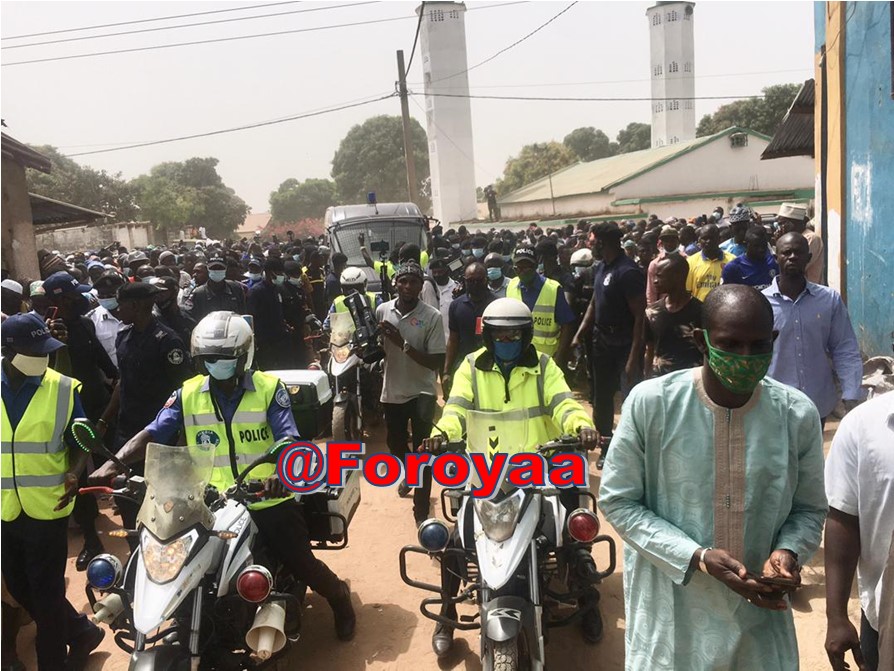 Speaking on behalf of the Gambian President, the Tourism Minister, Hamat Bah, said Jobe's death shocked and touched the entire nation.
"What the President told me to inform the nation is IG Jobe is someone who listens to him. Jobe had love of the country in his heart; (he) is loyal to his nation, services and the entire Gambian people.
"He said Jobe's death has shocked him – because just on Wednesday, when he (Jobe) contacted the President telling him that he would have lost an IGP. The President asked him (Jobe) what happened and he told him that he was attacked in the bathroom," Bah said.
Bah said Jobe couldn't make it and the President sent his condolences to Jobe's family and the entire nation. He said the government has given Jobe's family D100, 000 on Saturday.
"Today, the President himself and his family have also given Jobe's family a D100, 000. The money will be handover by the interior minister," he said.
Minister Bah urged Gambians to return themselves to Allah/God and support religious leaders both socially and economically.
All the security chiefs highlighted how Jobe contributed positively to the Gambia's security, saying he was always ready and willing to help the community in security matters.
"Our lord has (taken Jobe) from us because He needs him, but we and our nation also need him too," says drug enforcement chief while paying respect to the fallen colleague.
Interior minister, Yankuba Sonko, urged the security men and women to continue their dedication and hard work in serving the nation.
About the deceased
Mamour Jobe was appointed as new Inspector General of Police (IGP) on Juen 25th 2018. Before his appointment, he was deputy to former IGP Kinteh and was the Commander of the Gambia Police Training School before his appointment as a Deputy IGP.
It could be recalled that his predecessor, former IGP Landing Kinteh, resigned from his position nearly one year ago after his appointment by President Adama Barrow. His resignation came as a result of the incident between the Police Intervention Unit (PIU) and the people of Faraba Banta, that left three people dead and ten injured.
Commissioner of Police Alhaji Mamour Jobe was also appointed Deputy Inspector General of Police replacing the outgoing Momodou Sowe who has been redeployed to a lower status (Commissioner of Police).
"The new DIG is a veteran police officer who spent the greater part of his career as the administrator of the Police Training School (academy). Before joining the police, Jobe was a schoolteacher. Shortly after his initial training as police officer, he served as a detective officer with the then CID. Later he was transferred to the Police Training School as an instructor in general policing law, related evidence and procedure.
"In his career, the new DIG also served as a drug law enforcement officer. He later became station officer in Banjul, Kalaji and Serekunda police stations, respectively. At the rank of assistant superintendent of police, Jobe was then the second-in-command in Kanifing Region before going back to the Police Training School as Officer Commanding.
DIG Jobe also got experience working with the UN. He was deployed to the United Nations Mission in Liberia (Unamil). Upon completing his assignment in Liberia, he returned home and became the deputy chief of operation, commissioner of police for West Coast Region and Crime Management Coordinator. From there, he was deployed to the Ministry of the Interior and also became commissioner of police for North Bank Region, before finally going back to the police academy as commissioner.
"Until recently, Jobe was redeployed to the Kanifing Region as Regional Commissioner prior to his appointment to the position of deputy inspector general of police. DIG Alhaji Mamour Jobe is currently reading law at the University of the Gambia."
Jobe's policing career spanned nearly four decades.