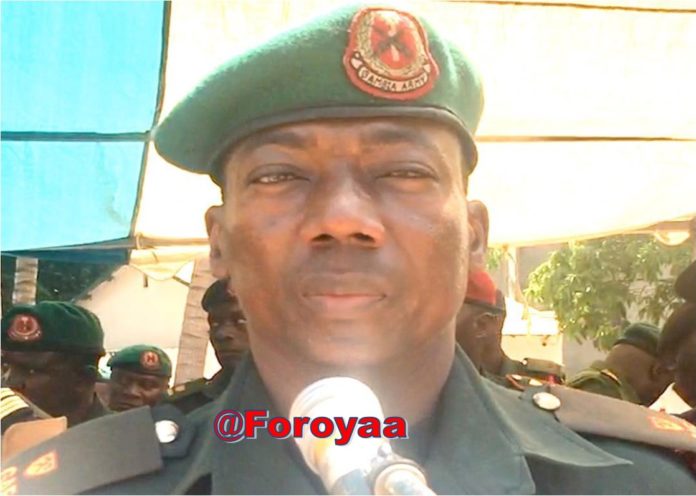 By Mustapha Jallow
A dozen of soldiers are still in the custody of the military police without bail or court trial.
But according to the armed forces spokesperson – Major Lamin K. Sanyang, GAF is very mindful of the 72-hour limit of detention, but that the accused soldiers are currently helping them with their investigation over the missing fuel coupons.
He said: "We are mindful of the 72-hours; even their detention is kind of relaxed. It's not like they are arrested and detained like in the case of a criminal or so, but also that they will be able to help us with the investigations."
He added, "If we let them go, it may interfere with whatever we are trying to find. But with that, that's why we call it open custody – their freedoms are limited but families can visit them, which under normal circumstances somebody under custody would not get."
According to the armed forces spokesperson, since the detainees are helping them with their investigation, releasing them would jeopardise the investigation. He explained that they are doing their utmost to speed up the process to get those that are not directly involved free.
It was recently reported by this medium that military guards, who were on duty at the defence headquarters in Banjul on 7th – 8th March 2020, were arrested and detained in relation to a break-in, which resulted in some coupons going missing in the office of one of the officers.
"These are non-commissioned soldiers. They are in charge of the security of the defence headquarters," the spokesperson said.
He said the arrest of these guards came to light when the officer in charge of storage and distribution of GAF fuel coupons, realised that some fuel coupons were missing in his office.
He said some arrested soldiers are currently detained at Yundum Barracks, while others at Fajara Barracks.
In a related development, two soldiers were picked-up.
Corporal Conteh was arrested on 9th April, while Corporal Saidyfaye was also arrested on 10th April.
Their arrest was also in connection with missing fuel coupons worth over D300,000.00.