By MUHAMMED S. BAH
The former Mayor of Banjul Abdoulie Bah, fondly called 'Lie Bah', has died during the early hours of Saturday morning, June 16th 2018, at the age of 70. Former Mayor Bah who was born in June 1948, died at his home in Mantel Street after a brief illness. His demised sent shock waves among Banjulians, as he was just from contesting the Mayoral elections, less than two months ago.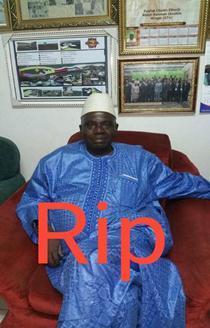 The former Mayor was able to secure one of the biggest projects for Banjul, amounting to100 million dalasi, during his tenure as Mayor.
The projects are meant for the reconstruction of 46 Streets within the Capital City, the construction of a youth complex, rebuilding of the City Council headquarters among others.
Thousands converged at the Independence Drive Mosque for the funeral prayers of the deceased Former Mayor, during which people spoke about his achievements for the City. The prayers lasted hours because everyone who knew him, wanted to talk good about the former Mayor.
He was described as a genuine Citizen and someone who had faith in God, by all who knew him and everyone who spoke, said his death was a great loss to the people of Banjul.
A delegation from the office of the president, headed by the Religious Affairs Adviser Mr. Dembo Bojang, conveyed their condolences to the family of the deceased.
The Ministers of Tourism, Regional Government and Justice, and Mai Fatty and former and Current Mayors of KMC and Banjul, members of the Supreme Islamic Council, National Assembly Members and representatives from other religious faiths, attended the funeral.
Mayor Bah was born in Banjul. He attended Muhammedan Primary and Banjul City Council Junior Schools.
During his School days, the former Mayor was said to be an active organizer of cultural and sporting activities.
He is said to have landed his first job as a mason and participated in the construction of the Muslim High School now Muslim Senior Secondary School. 'Lie Bah' as he was fondly called, was also elected Councillor for Campama Ward in 1987, during the tenure of James Gomez as Mayor, and has worked at the Gambia Ports Authority until his retirement, to become the Mayor of Banjul, the City. He was laid to rest at the Jeshwang Cemetery on the same day. The former Mayor is survived by two wives and children.