By Mustapha Jallow
Seventeen (17) staff were elected on Saturday as new executive members of the country's Agriculture Workers' Association (AWA).
The outgoing executive members were veteran agriculturists, including Sheikh Tijan Sosseh, ex-President, Ousman Jammeh, former Secretary General, Amadou Bojang, ex-Social Secretary and others.
The nomination was announced at 2pm on 23rd October 2021, where members identified and voted for their choices.
Lamin Bajo was nominated as President of AWA, but he immediately declined the request. If Bajo accepted the position, he would have faced Foday Jadama who was also nominated as President.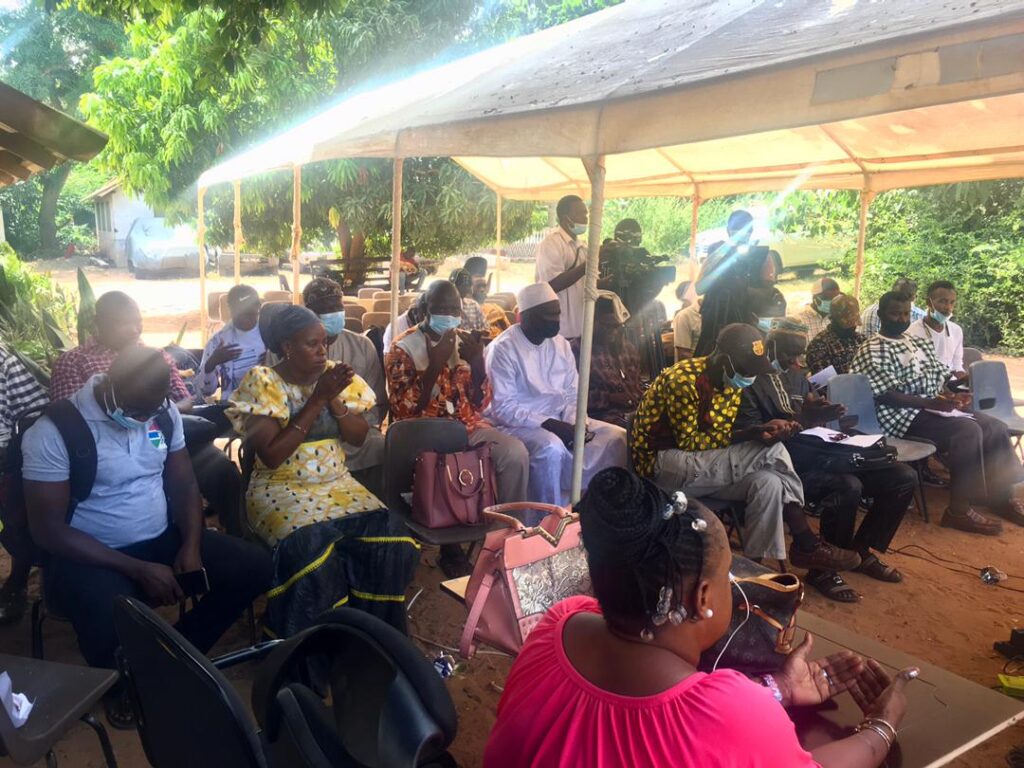 Jadama was later elected unopposed as President of AWA.
Isatou Savage was nominated as vice president and was later elected vice president unopposed. Lamin Bajo, who declined to run for President, was elected unopposed for the position of Secretary General.
Omar Sonko was elected as first assistant secretary general unopposed and Fatou Ceesay was elected unopposed as second assistant secretary general. Omar Jeng- Treasury, Ousman Saho- Social Secretary, Fatou Joof- First Assistant Social Secretary, Mariama Jobarteh Second Social Secretary- were also elected unopposed.
Saikou P. Touray- Coordinator for Unban, Pa Alhamdo Ceesay- Coordinator for West Coast Region (WCR), Alh. Kome Conteh- Coordinator for Lower River Region (LRR), Buba Daffeh- Coordinator for North Bank Region (NBR), Aziz Sowe- Coordinator for Central River Region (CRR) South, Anthony A.C Mendy- Coordinator for CRR-North, were also elected unopposed.
The association has survived for 20 years since its establishment in 2000, and it is aimed at improving the earning and living conditions of the agriculture staff and boost their welfare to standard levels.
During his brief analysis about the association, Lamin Bajo, Director of Communications AWA and newly elected AWA SG, said the association at some point went into some management failure after a few years of its existence. But he thanked the members who stood up to ensure the problems were resolved, which he described as "remarkable success."
"Many of the dues paying members were laid off without a job and to make matters worse, the treasury department stopped to deduct member contributions from the sources. All efforts to revitalize deduction through the NADA structure went futile. So, the association remained in a dilemma as many members were redundant. Thanks to the Credit Union leadership for their remarkable support to the agricultural staff," he explained.
Bajo further outlined some of the achievements they have made, including salary increment of staff at various levels, raising of the association's income from D17, 715 to over D200,000.00, establishment of a Credit Union 15 years ago, improving the Credit Union savings from D16, 000.00 to over D300, 000.00, training of 300 agricultural workers on HIV AIDS prevention and care, contributing towards the relief of the flood victims of CRR and the locust invasion of 2004, giving condolence grants to 30 deceased staff of the association, supporting the treatment of seriously ill (sick) staff of the association, supporting members who were involved in fire disaster and so on.
He also highlighted the recommendations they made which includes reviewing the constitution, to incorporate the views of the new members, study the structure properly so that succession to any incumbent executive is easily attained, strengthening the welfare of its members and their families and so on.
While declaring the event open, Dr. Saikou Sanyang, Director General for the Ministry of Agriculture, said it is important for agriculture workers to come together as an association, saying the association was meant to assist members to solve their day to day management issues through the credit union.
"I will advise you (members) that this association is ours and it belongs to no body. We should take ownership of it. We should also be part and parcel of the association," he advised.
Foday Jadama, the current AWA President, urged his members to come together for their betterment.
The outgoing president, Sheikh Tijan Sosseh, said most of the members were not showing commitment to the association during his tenure.