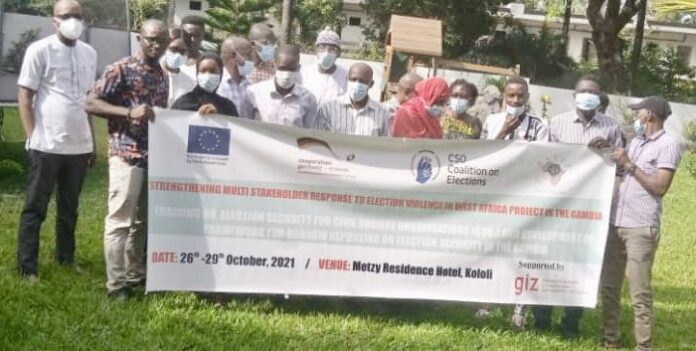 By Mustapha Jallow
The West Africa Network for Peace-building (WANEP), The Gambia on Tuesday engaged thirty (30) participants from Civic Society Organisations (CSOs) for a shadow reporting on election security in the country.
Organised by WANEP in collaboration with CSO Coalition on Elections, the 3-day session was supported by ECOWAS Peace and Security Architecture and Operations (EPSAO), and commissioned by German Federal Ministry for Economic Cooperation and Development (BMZ). The Deutsche Gesellschaft für Internationale Zusammenarbeit (GIZ) GmbH, a German development agency and the European Union (EU) co-funded the session.
"We noticed that there is violence during the election process in many countries, which is currently being experienced in The Gambia," said Mensah Dede Edwige, WANEP Liaison Coordinator at ECOWAS (Abuja), while delivering her welcoming statement.
Edwige said they are trying to see how they can improve the knowledge of CSOs for them to also act on the ground and mitigate the problem in the communities.
"This is a way of CSOs' contributing to various efforts. They should also consider it as a collective effort for a peaceful election process," she said.
Amadou Bah, WANEP's Senior Program Officer who spoke on behalf of WANEP National Coordinator, explained that the 2016 presidential election was a defining moment for the consolidation of peace and democratic governance in the country.
He further said the country's transition has been replete with infra and inter-party tensions.