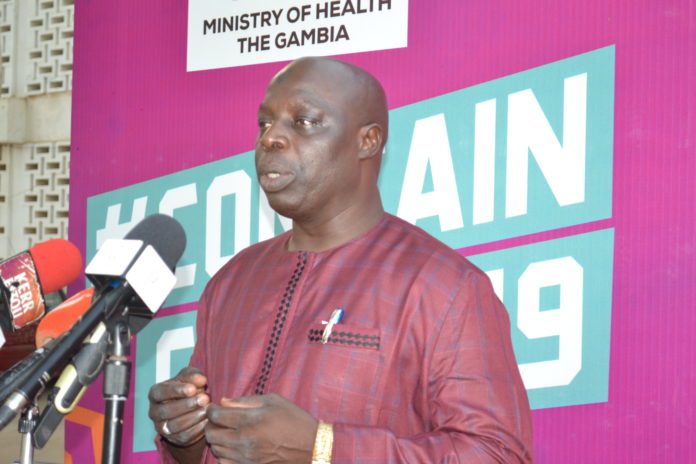 By Nelson Manneh
Health authorities yesterday 8th June 2020 confirmed the registration of two new COVID-19 cases in the Gambia bringing the total number of confirmed cases in the country to 28.
The country currently has one hundred and twenty-five persons under quarantine, six active cases and no probable case.
The Director of Health Education and Promotion at the Ministry of Health Modou Njai said one of these cases is the first confirmed case of COVID-19 from North Bank Region.
"Both Confirmed cases were in quarantine for having recent travelling history to locations with ongoing community transmission, their respective neighbours reported them to the COVID-19 response team through the 1025 hotline," he said.
Mr Njai said forty-seven (47) laboratory test results were received, ten from NPHL and thirty-seven (37) from MRCG.
"Of these, while three tested positives for COVID-19 two are newly tested and one is the result of a test conducted on an existing case. And forty-four tested negative for COVID-19," he said.
Director Njai said twenty-four persons were newly taken in to quarantine, one new person was discharged after testing negative upon completion of the mandatory quarantine period.
"The newly quarantined were intercepted from different border posts while attempting to enter the country from locations where local transmission is ongoing," he said.
Globally, Njai said since 31st December 2019 and as of 7st June 2020, a total of seven million eighty-two thousand and nineteen cases of COVID-19 have been recorded.
"Of these four hundred and five thousand deaths were registered and three million four hundred and fifty-six thousand nine hundred and forty-four recovered from the diseases," he said.
He said Senegal recorded four thousand and three hundred and twenty-eight confirmed cases, two thousand five hundred and eighty-eight recoveries and forty-nine deaths.