By Momodou Jarju
Commissioners of the Truth Reconciliation and Reparations Commission (TRRC) and partners, have urged victims of the former regime to come out and reveal their stories.
This call was made at the maiden Town Hall Meeting of the Commission held at Father Farrell Hall at Westfield, on the theme 'Meet Your TRRC-You Are A Citizen, You Have A Voice'. Established by an Act of parliament last year, the TRRC is mandated to find out the truth about human rights violations, during ex-President Jammeh's rule, from July 1994, to January 2017.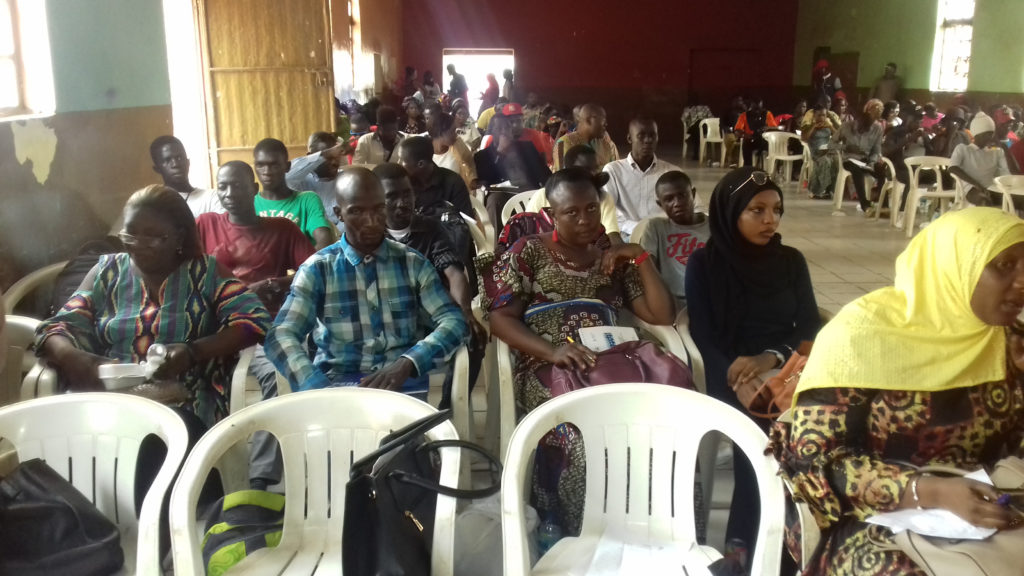 Speaking to packed hall, the Deputy Chairperson of TRRC, Adelaide Sosseh, said victims' stories ought to be told in order to unleash the ugly episode that took place during the past regime; that without the participation of Gambians, especially the victims, they would not be able to carry out their role; that the task required from all and sundry, is to work together with the Commission, in order to regain the lost humanity, dignity and godliness, as a people.
"The stories are in your hands. Without you coming out and telling them, the truth would never be told. The other part of the process, that is reconciliation and reparation, comes after the narratives are told. Some of the stories would not be easy to tell or easy to hear. Despite this challenge, they must be told. During the 22 years of dictatorship in this country, Gambians lived a life that none of us ever lived, and would never want to live again," she said.
Aisha Jammeh, co-founder of the Victim Centre, urged everyone who is either a victim or knows a friend or family member who was arbitrarily arrested, tortured, lost a family member etc., to speak out.
Aisha, who said lost her father when she was 14 and up to date does not know where he has been buried, said the only way the TRRC could help victims have justice, is for them tell their stories; that this was the reason why they established the victim centre, but that it has been almost two years since they started the centre and received more than 1,000 cases; that there are many cases out there unreported and believes when the TRRC starts sittings, a lot more cases would be heard.
"Like I always say, we are all together in this and together we can all win this fight," she said.
Dr. Baba Galleh Jallow, Executive Secretary of TRRC, said they are going to engage young people in this country, to take ownership of their future by actively partaking in the TRRC process.
Dr. Jallow said the TRRC is a process that belongs to Gambians especially the youth, many of whom were present during the event, describing it as an important and historic one.
"What we are trying to do, is not just to have a transitional justice process. We want to have a transformative transitional justice process. And if you want to transform tomorrow, if you want to build society, there is no better place to start, than with the young people." He said the meeting is the first of many they would be organizing in the coming year or so; that it is part of the 'never again' campaign that they have launched, which is supported by the new Commissioners and Gambians as well.
The British High Commissioner to The Gambia Sharon Wardle, said they are happy to support TRRC together with the international community, and will continue to support them as they continue their work.
She however put it that the initiative is a Gambian process and want the conversation to be amongst Gambians; that the Gambia is a proud, beautiful and tolerant nation that has gone through a lot, in recent years.
Participants who spoke and asked questions, urged the TRRC to start their mandate forthwith, because many victims are enduring lots of pain, and want justice to be served.
One of the participants and victim as well, said before TRRC starts and ends its mandate, many people would have died due to the injuries they sustained, and are in urgent need of treatment without compensation.
Responding to comments and questions, Dr. Jallow said they would not wait until the end of their Commission completes its mandate, to give reparations to those who urgently need help; that those in need of urgent medical assistance, especially April 10 and 11 victims, would be taken care of immediately.
Answering a question from one Omar Ceesay as to whether they have a special section for women and those who do not want to speak in public, Dr. Jallow responded in the positive.
The event was organized by the TRRC Committee and hosted by Pastor Forbes of the Abiding Word Ministries.