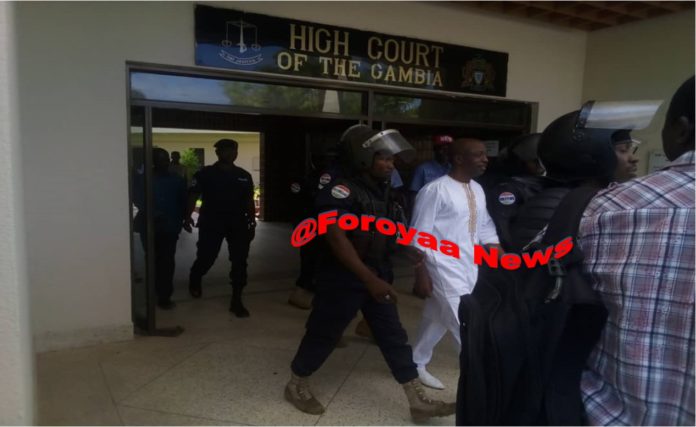 By Yankuba Jallow
Lawyer A. Sisoho for Yankuba Touray has made application for the testimonies of ex-Corporal Alagie Kanyi both before the TRRC and before Justice Aminata Saho of the High Court regarding what he knows about the alleged murder of Ousman Koro Ceesay to be produced.
This application was opposed by Principal State Counsel, A.M. Yusuf.
Touray, an ex-Minister for Local Government and Lands is accused of murdering Ousman Koro Ceesay, a former Minister of Finance during the reign of the military junta. The killing of Ceesay according to the particulars of claim happened at the residence of Mr. Touray sometime in June 1995. The court entered a plea of not-guilty for Mr. Touray after he refused to take his plea and invoked his constitutional immunity.
Lawyer Sisoho said these two documents are very essential to his case. The senior lawyer added that if the documents are not provided, it might paralyze their case (defense). Kanyi appeared before the TRRC sometime in February 2019 and public gave testimony regarding the alleged murder of Koro Ceesay. Lawyer Sisoho wants the court to make orders for the Executive Secretary or any person from the TRRC to produce the document to the court. Also, Sisoho wants the transcribed testimony of the witness (Alagie Kanyi) before Justice Aminata Saho-Ceesay in the case of The State versus Yankuba Touray and Fatoumata Jahumpa-Ceesay. Kanyi in that case testified on what he knew about the alleged murder of Ousman Koro Ceesay. Lawyer Sisoho's application was supported by an affidavit sworn to by Fatoumata Camara on the 25th February 2020.
Barrister Sisoho said the application was made in accordance with the Rules of the High Court and also, sections of the Evidence Act 221, 225 and 210 of the Evidence Act which he read out to the court.
Counsel A.M. Yusuf objected to the application through an affidavit in opposition as he urged the court not to grant the application.
The matter will be coming on Monday for reply on points of law to the State Prosecutor's objection by Lawyer Sisoho while Justice Ebrima Jaiteh will on Thursday, 19th March 2020 rule on the application.