By MUHAMMED S. BAH
The corpses of the three Faraba Banta protestors who were killed last Monday, June 18th 2018, have been finally laid to rest on Saturday, June 23rd 2018.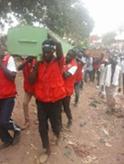 Ismaila Bah and Bakary Kujabie who died on the day of the protests, were alleged to have been shot by the Police Intervention Unit (PIU) and Amadou Nyang Jawo, who died two days afterwards, sustained serious injuries from the alleged shots. All three are below the age 25.
The funeral ceremony was witnessed by huge crowds of family members, sympathisers, religious leaders, National Assembly members and Government officials who came from across the country.
From the mortuary in Banjul, the corpses were taken to Faraba Banta village mosque for the funeral prayers and later to the cemetery for burial at 3pm.
Saidou Bah the father of Ismaila Bah, the youngest amongst the three victims, said the day was the saddest day in the annals of the village's history and a very unfortunate one for that matter, for the sons of the village to lose their lives, in such a cruel manner; that they await the pronouncements made by the President when he visited the village that his Government will get to the root cause of the matter.
Saidou said they have been met by Officials of the Government including the president, after the incident; that the President urged them to remain calm until the Commission of Inquiry finished doing their job and assured them that justice will prevail for the victims of the incident.
Speaking to the Public Relations Officer (PRO) of the Edward Francis Small Teaching Hospital during the weekend, Momodou Drammeh said other victims of the protest who have been admitted, have been discharged except four, who are still undergoing treatment at the hospital.