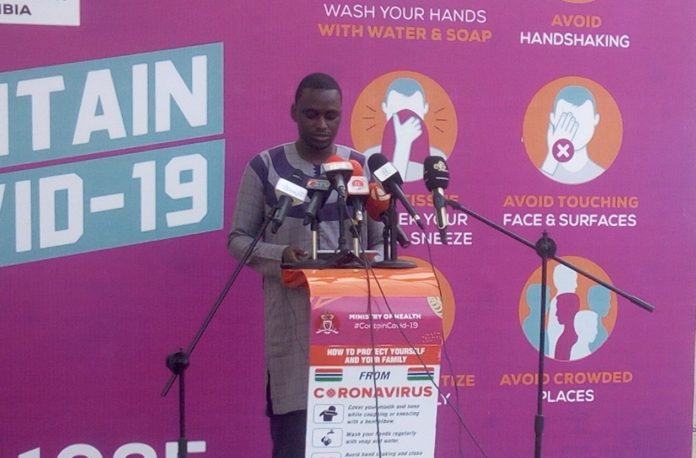 By Nelson Manneh
Dr Mustapha Bittaye the Director of Health Services at the Ministry of Health yesterday the 21st March 2020 informed the press that six Gambians returning from Senegal via different ports of entries are taken into quarantine.
"29 new laboratory results are received and all of them are negative for COVID-19. Three persons are discharged from quarantine upon completion of their mandatory stay and testing negative for COVID-19," he said.
Dr. Bittaye added that a total of 68 contacts of newly confirmed cases have been traced and currently, the country has 93 persons under quarantine; 7 active cases and no probable cause.
Globally, Dr. Bittaye said since 31st December 2019 and as of 20th April 2020, a total of 2, 478, 406 cases of COVID-19 (in accordance with the applied case definitions in the affected countries) have been reported. Of these, 164,930 deaths were registered and 645, 723 recovered from the disease. Senegal recorded 377 confirmed cases, 235 recoveries and 5 deaths.
"Currently, we have 93 people on quarantine. A total of 361 tests were conducted and 10 are positive. 264 people completed quarantine, 441 contacts traced and 310 people completed follow-ups," he said.
The Director of Health Services at the Ministry of Health said there have been daily coordination meetings on-going at both the strategic and technical levels.
On logistics and safety, Dr Bittaye said the National COVID-19 Response received a consignment package of 2000 medical N95 Face Masks, 10,000 Ordinary Face Masks, 2000 Medical Protective Clothing, 2000 Face shields, 1000 disposable medical gloves, 10,000 disposable shoe covers and 500 sets of forehead thermometers.
"With regards to our next steps the Ministry of Health will embark on providing security in the homes of all families under quarantine and/or at the treatment centre and also introduce a car log system for the COVID-19 response fleet," he said.
Bittaye said they will also embark on contact listing and thorough tracing of contacts of newly confirmed cases and strengthen community surveillance in all regions, especially at un-designated border areas.
"The Ministry continued with daily follow-ups of low-risk contacts and those discharged from quarantine and also, encourage public reporting and self-reporting of suspected cases through the toll-free line (1025)," he said.