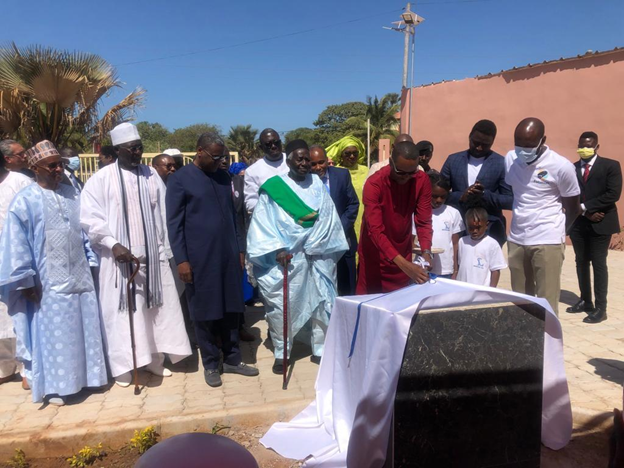 By Nelson Manneh
The Board of Directors and staff of Sharab hospital have launched a new Obstetrics and Gynaecology complex in Bakau on Saturday 21st January 2023.
Dr. Abubacarr Jah, the Medical Director of the Hospital said the idea was conceived about twelve years ago when they came up with the aim of enhancing quality medical care in the Gambia, because the founders realised that health care in the Gambia remained one of the least developed in the world, necessitating travel to neighboring Senegal and beyond for medical care, by only those who can afford it while those who cannot, contend to what is available here.
"We want all Gambians, rich and poor, those in position and those without, to be able to have the confidence to get treatment in The Gambia in dignity and even if it is the end of their lives, to be able to spend it with their families right here. And this today is a step towards that," he said. Dr. Jah said it is imperative for the government, parastatals, private companies and individuals to support and boost the private sector which has propelled countries like India in terms of health care. He highlighted that some of the most advanced countries in medical care like India and Turkey, were in similar situations only decades ago, but said it was the private sector in those countries that catapulted their health care systems to where they are now.
"The founders of Sharab had experience working both in countries in the sub-region and in Europe and noticed the vast difference in quality of care and health care professional attitude towards patient between those countries and ours. In fact the problem is not only lack of equipment and facilities for quality of care, but poor customer care for lack of better words. We felt that our people deserve better and it is possible to establish a center where our people can access advanced health care in a well-equipped hospital with staff to treat patients with dignity, in a friendly and professional environment where they feel cared for," he said. He said this will reduce the need to travel abroad for treatment and even encourage medical tourism to The Gambia, from neighbouring countries and beyond just like India and Turkey.
"We started Sharab hospital as an outpatient facility with meagre investment guided by our religious inclinations and our parents, family and friends advice, and this facility opened only in the evenings. However, the small clinic quickly gained popularity and we rapidly evolved into a 24hr service with admission facilities, an operating theater and radiology unit and recently, a dental unit. We have employed more than one hundred male and female youth within only two years. Now Sharab is a household name in The Gambia. We cannot say it was a smooth journey because there were lots of hurdles including the difficulty in getting medical consumables and well trained staff including biomedical engineers, to care for sensitive equipment, unstable water and electricity supplies, and the poor purchasing power of clients just to mention a few, " Dr Jah said.
Despite all the difficulties, Dr Jah said the hospital started registering great successes which include having a Urology endoscopy facility, and they have pioneered the first fully electronic medical record system which only one other hospital in The Gambia has taken up, and work on penile prosthesis implantation, gastrointestinal endoscopy, medical tourism among others. Since the inception of Sharab, Dr. Jah said they have also been involved in philanthropic work sometimes in partnership with other institutions including Direct Aid international, Qgroup Foundation and SAJCF.
"We have done hundreds of operations free of charge for people in need, often for complicated surgeries that would have needed overseas treatment. So our clients should know that supporting Sharab means supporting the health needs of the whole country," he said. Dr Jah said Sharab hospital has now shifted another gear and invested on a state of the art obstetric and gynaecological unit. That despite its size, "we have designed it to be of quality comparable to those in the developed world, and anyone who visits will realise that a lot of investment was made to establish the unit."
"This is another step towards national development and a strong public private partnership is needed to ensure that Gambia becomes a hub for medical tourism at the same time provide employment to our growing health care personnel," he noted.
Ousman Jobe, the Chairperson of the board of Governors of Sharab Hospital said the institution was established in September 2011 as an outpatient service only, but it grew over the years to a 24hr service and a full time multi-specialty hospital with several departments. He said the hospital has pioneered many services in The Gambia especially in the field of Urology and remains the only facility offering such services in the country.
"The hospital pioneered the first fully electronic medical record system which only one other hospital in The Gambia has taken up. We focus on giving quality service rather than make profit and we engage in many philanthropic activities including giving free medical services to those who cannot afford it," he said. He said the hospital now employs more than a hundred Gambian youth and professionals.