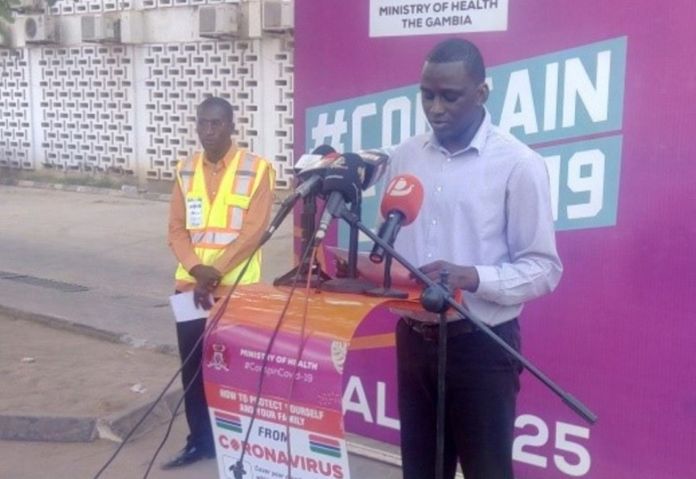 By Nelson Manneh
The Director of Health Services at the Ministry of Health Thursday informed the press that seventeen Senegalese were arrested for illegally entering the country.
"Sixteen of these individuals were handed over to the Amdalaye Immigration and the other one was handed over to the Amdalaye Health post for further medical assessment and management," he said.
Dr. Bittaye said a bus carrying twenty-six people was intercepted trying to enter The Gambia coming from Senegal. He said out of the 26 people, twenty-three were quranic students.
The medical doctor said they were taken to a health facility for screening where three manifested high temperature and have been isolated for possible sample collection.
"Security personnel are enforcing the social distancing practice in various areas in the Kanifing Municipality, ferry crossing points and markets. The Gambia Tourist Security Unit Officers also embarked on routine beach patrol to enforce the social distancing measures," he said.
On surveillance and laboratory, Dr. Bittaye said nine laboratory technicians and assistants for Farafenni, Ngain, Kerewan, Salikenni and Illiassa were trained on COVID 19 sample collection.
"Eleven samples were collected, nine from the contacts of the 11th case while two from an orderly working at Farafenni RCH and the son," he said.
He said they provide psychosocial support services to the thirty-six Senegalese under quarantine. He added that the Ministry has also provided psychological education to the stigmatized family in Numuyel whose family member was confirmed as COVID-19 positive but recovered after undergoing treatment.
"Regarding our next steps the Ministry of Health will follow up with the Supreme Islamic Council on the demonstration process of safe Ramadan guidelines on COVID-19 preventive measures," he said.
He said that they will also engage private pharmacies to report clients presenting flu-like symptoms to the RRTs.
"COVID 19 is real and we would like to urge the general public to strictly adhere to the World Health Organization (WHO) and the Ministry of Health recommendations and guidelines on COVID 19 by desisting from public gathering and practice social distancing," he concluded.